July 3, 2003 at 10:55 a.m.
Scouting for success; Lindstrom's Mark Wilson has used a little bit of luck and a lot of heart to succeed as a big league scout.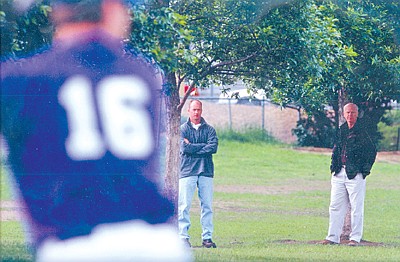 ---
It never ends. A lot of things fall into that category; the phone calls, the driving, the hotels, room service, the phone calls, the driving...Last year alone, Mark Wilson spent 200 nights in hotels, visiting 28 states and four Canadian Provinces totalling up to over 60,000 miles behind the wheel. If any hotel chain out there is looking for a spokesman, he's available.

A typical day includes 50 phone calls, 30 going out and 20 coming in. Just take your pick as to who's on the other line. It could be a player, coach, scout, or even Minnesota Twins General Manager Terry Ryan himself. Suddenly, all of the traveling, driving, preparation, and phone calls are worth it. Wilson is living a dream as a Major League Baseball scout.

Wilson is a local boy with a baseball flare. A native and current resident of Lindstrom (although he's hardly ever home), Wilson graduated in 1986 from Chisago Lakes High School before moving on to play at the University of Minnesota Duluth. Four years later he was traveling around the Independent Leagues for two years, constantly searching for that big break. That break would eventually come, although at the time, he didn't look at it that way.

"I had a teammate of mine in college who got into scouting right away. He was a local scout, we call it bird-dogging," remembered Wilson. "I told him that I wanted to do the same thing. If you would've talked to me 10 years ago, I would have said that playing minor league baseball was my dream," said Wilson. "Once I got into this, I realized that I can do it a lot longer than playing ball and it fits because I can be around baseball."

Fast forward to the present and it's obvious he made the right choice.

Actually, even though he got his first scouting job in 1996, things didn't actually come together for Wilson until September of 2000. After spending three years with the Chicago White Sox, Wilson's favorite team, the same team he watched and followed while growing up, offered him a job as a part-time scout. Wilson became a full-time Twins scout seven months later, covering the Midwest area from Wisconsin to Nebraska. It hasn't stopped since.

Tricks of the trade

Wilson himself has trouble keeping it all straight. I have to be at a try-out camp on Monday and Tuesday. I should be around on Wednesday, yah I think I'll be around. Thursday is good, then I travel to Iowa over the weekend and I won't be back for a few days. You know what? Just call me on the my cell phone, I always have it on me.

The cell phone to him is like the lightsaber to Luke Skywalker, it's his life-line. As a matter of fact, Wilson doesn't even own a normal phone. It's better that way, much easier to plan.

"I have everything planned out basically up until October," remarked Wilson. "It's not just one plan but it's plan B and C. Weather, pitching rotations, interviews, coaches; you have to be one step ahead of the game at all times."

When you break it down like a box score, Wilson drives an average of 3,000 miles every two weeks. That doesn't include him watching games, checking into hotels, checking the weather, and returning phone calls.

"I have a direct supervisor that I talk to but I set my own schedule," commented Wilson. "I have to find the players who we draft, determine how much time to spend on each player and what ones to pay the most attention to. I love what I do but that doesn't leave a lot of time for fooling around."

It never ends.

Linked to History

On Tuesday, June 5th, 2001, Mark Wilson's career changed forever. Certainly, he's done more than just sign Joe Mauer in his eight year career as a scout, but even so, that sign will likely be one of the most defining moments in his career no matter how long it goes.

"The first player I had in the draft turned out to be the number one overall pick," remembered Wilson. "I just signed Billy Mauer and that completed the signing of the whole family, but having your first sign the number one pick is something that doesn't happen too often."

For those who don't follow the world of baseball, Joe Mauer was drafted by the Minnesota Twins as the first overall pick in the 2001 Major League Draft. Mauer, who played at Cretin-Derham Hall in St. Paul, was the most sought after baseball product the state of Minnesota ever produced including the likes of Paul Molitor and Terry Steinbach. Since being drafted, Mauer has lived up to the expectations by climbing his way to Class A and was recently selected to take part in the All-Star futures game on July 13, two days before the Major League Baseball All-Star Game in Chicago. As the accolades add up for Mr. Mauer, Wilson will always be tied to them.

"I've known the Mauer family since Joe was a sophomore. It's become more of a friendship type relationship than just another player," said Wilson. "You try to stay humble about it. He's a special player and it's a special case."

Every day, Wilson hits the road hoping that lightning will strike twice and another Joe Mauer will fall into his lap. It's the goal, and job, of every scout in the Major Leagues. That drive to sign another top pick is what lured Wilson to Cambridge, Mora, and North Branch this past spring, scouting and evaluating Mora fire-baller Josh Oslin. Thought to be a top 10 pick in the 2003 MLB Draft, Oslin lit up opposing teams and scouts radar guns with a 92 mile per hour fastball, helping him become the state's top prospect. The fact that Oslin eventually was drafted by Wilson and the Twins in the 20th round is a moot point.

"The whole draft is the single most unexplainable process in the world," remarked Wilson. "There is no way you can predict where a kid is going to be picked and have it stick."

Even a player as dominating as Oslin. Back on June 3, when Chisago Lakes faced Mora in the section tournament, Wilson and Twins GM Terry Ryan (telling which one is which is a different story altogether) sat side by side watching the University of Minnesota product's every move. To them, Oslin in the 20th round was a steal.

"A lot of that has to do with the players sign ability. Oslin had the opportunity to go to the U of M and he's not going to give that up for just anything," commented Wilson. "Most scouts are evaluating the person more than the player. They determine whether or not he'll sign and how much. Knowing that he was going to the U of M scared some scouts off which was good for us."

If Oslin reaches his potential, it will be very good for Wilson. Still, either way, Wilson pounds the pavement, always searching.

"Communication, evaluation, projection and re-evaluation," remarked Wilson. "You're constantly looking at a player, evaluating what's going on. If I'm not doing that, I'm scouting the scouts. I'm doing that at the ballpark, seeing which guys and organizations are bearing down on what kids and that gives you an idea of where you might have to take a player in the draft in order to get him."

It never ends.

Paving the way

He tries to stay as humble as possible. Admittedly, that's a tough task. After all, not everyone gets to live out their dream on a daily basis.

"There is always that feeling you have when you look back on things and realize you're living your dream," remarked Wilson. "You try to stay humble about it and realize how fortunate you are."

Fortunate might be the only way he can describe it. Scouting is one of tougher businesses to get into. These days, just knowing baseball isn't enough.

"It might be one of the harder things to get into," remarked Wilson. "Playing helps quite a bit, having that playing experience to fall back on. A lot of scouting is a gut feeling and playing is really the only way to get it, to develop it. There really isn't a blueprint that tells people how to become a scout. For me, it just happened."

So what will happen next? Wilson has made a point not to answer that question just yet.

"If I stay the Midwest scout for the next 50 years, I'll be pretty happy, that's completely fine with me. I haven't set the bar at any level," said Wilson. "If opportunities come up, I wouldn't turn them down but I'm not making that a goal."

No, for now, Wilson's goal is to just get through the day. Okay I need to check out this pitcher, then travel to Nebraska this weekend. Hold on, I think that's my phone.

It never ends.......
---
December
SUN
MON
TUE
WED
THU
FRI
SAT
Today's Events
No calendar events have been scheduled for today.
December
SUN
MON
TUE
WED
THU
FRI
SAT
Today's Events
No calendar events have been scheduled for today.