November 6, 2003 at 9:30 a.m.
Chisago Lakes High School play later than usual; but large cast, special effects and added performances couldn't be rushed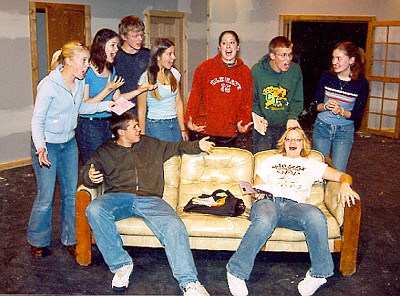 ---
Theatre-goers will have more opportunities to see this year's fall play "My Son is Crazy––But Promising" at Chisago Lakes High School. Contrary to what was published in the school calendar and the School Review, this year's fall play will run Nov. 13-15, with two shows Saturday.

Why the added performances? "There is a tremendous amount of talent at CLHS," says Director Heidi Mix. "I tend to choose a show with previous auditions in mind. It was a pleasant surprise to see an increase in numbers this year." The number of students who auditioned this year was up, especially among juniors and seniors. However, this turned out to be a problem when trying to cast 14 roles. "Since there is no right or wrong way of reading these parts, Martha Grunwald, assistant director, and I found ourselves with impossible choices to make between two people. Therefore, we opted to do some creative brainstorming," says Mix. That brainstorming led to a phone call to Perry Aadland, Activities Director at CLHS. "I am so fortunate to work with an activities director who supports my philosophy of "the more, the merrier." While this solution has not made directing any easier, it did allow more students an opportunity to be involved," Mix says. The solution, put simply, was to create two casts. One will perform at the originally scheduled times of 7 p.m. Friday, Nov. 14 and Saturday, Nov. 15. The other cast will do the added performances of 7 p.m. Thursday, Nov. 13 and 2 p.m. Saturday, Nov. 15.

Katie Anastasi, a sophomore who plays Fay Armstrong, says "I love having so many people involved in the play. Everyone is so much fun and we have memorable practices when we're together. This is one of the rare times where people from all different groups can come together and have fun."

"My Son is Crazy––But Promising," was written by Tim Kelly. It is a two-act comedy revolving around a screenwriter (the son in the title) and all of the characters he and his movie star mother meet upon arriving at the Ritz Apache Lodge, in Tumbleweed, Arizona. The cast supports a spy, an FBI agent, the local sheriff, the owner of the lodge, a little old lady, a couple of newlyweds, a mobster, and the mobster's fiancee. The problems increase with each new resident. According to Jessica Bachman, a sophomore whose character name is Chi-Chi Vazoom, "The play is great. It's so much fun and it has a wide variety of everything. It's perfect for a high school play."

The fall play is two weeks later than usual. That, combined with a dedicated tech crew, is allowing for the creation of some different and more creative technical effects. "The tech people are at practices as much as the actors are, experimenting with different things, making sure everything will be just right on performance night. During practice you can see and hear the progress being made and you just know that the final product will be absolutely awesome!" says Kate Hattenberger, a junior who portrays Cora Ames. People attending the shows can expect a few surprises.

Tickets for all four performances will be available at the door. Tickets for Fine Arts events at CLHS are $4 for adults, and $3 for students. Senior citizens (62 years) and ISD 2144 employees are free with a photo ID. The production promises to be an evening (or matinee) of entertainment and amusement.


---
December
SUN
MON
TUE
WED
THU
FRI
SAT
Today's Events
No calendar events have been scheduled for today.
December
SUN
MON
TUE
WED
THU
FRI
SAT
Today's Events
No calendar events have been scheduled for today.