October 9, 2003 at 11:00 a.m.
Open house Oct. 10-13
Development is oasis for horse-lovers, but you don't have to reside there to benefit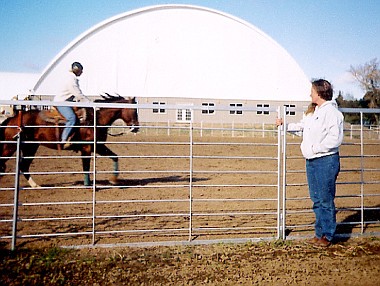 ---
A while back Rob and Cathie Lunzer sat down with Cathie's parents-- Rich and Barb Hoogheem and laid plans for a special kind of development that would hopefully become a showcase for equestrian-theme communities. The result, Oasis Equestrian Center and its adjacent 21-home development, will be open to the public beginning Friday October 10, and running through the 13th.

The equestrian center is alongside County Road 9 (Oasis Road) north of Center City, where County Road 74 intersects. The homesites are behind or east of the facility, fronting a paved road that winds through grassy fields and woods. Six lots are spoken for with a couple of houses completed and others in various stages of construction.

The parent-grown child partnership means being able to put in the housing development road and doing the sitework with the family-owned excavating firm-- while Cathie and her mother are active in the horse-side of the operation.

Lunzer explained, "I wanted to see something that would fill a need for a show arena on this side of the metro area, be a resource for the local horse groups, and also be somewhere that people could pursue equestrian careers." A trainer who grew up in North Branch was working horses the day the Press visited. Katie Moore, recently graduated from River Falls majoring in marketing and communications, and in equine science.

Lunzer hopes to see the business establish itself as a place for perhaps generations of up-and-coming horse-professionals to use their skills and training.

She and her mother are involved in the local 4H horse project and plan to have 4H events and possibly next year's encampment, at the center.

The open house this weekend is also featuring a rehabilitative therapist who uses horses instead of a clinic approach in a system known as hippotherapy. Speech, language and physical and psychological gains through horse therapy can be discussed by visiting with the therapist at the open house. The program, out of Nature's Edge Therapy Center in Wisconsin, would be scheduled at Oasis, based on interest, Lunzer explained.

Oasis is also hosting a series of Sunday ranch horse shows, for an entry fee of $10 per class. The next shows will be November 2 and December 7. There's an Arabian horse show October 27.

For a membership fee paid yearly, anyone may trailer or ride their horse to the covered arena and use the facility.

Lunzer pointed out that six of the lots have been sold but not everyone in the housing development have become "members" in the equestrian center. The two projects are happening simultaneously but are not tied together. Likewise, anyone can become a member, take lessons or board a horse on-site and not be required to own a lot.


---
December
SUN
MON
TUE
WED
THU
FRI
SAT
Today's Events
No calendar events have been scheduled for today.
December
SUN
MON
TUE
WED
THU
FRI
SAT
Today's Events
No calendar events have been scheduled for today.