October 16, 2003 at 2:35 p.m.
Lindstrom-Chisago City law enforcement merger dubbed Lakes Area Police and Wyoming officials investigate joining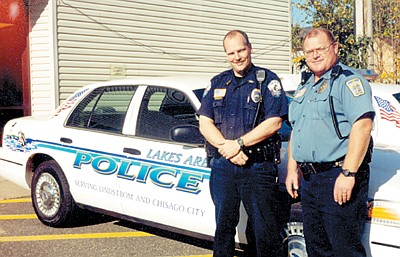 ---
The first-ever meeting of the Lakes Area Police Commission October 8 went smoothly, with matters like squad car design and union representation easily handled.

The four-member commission is overseeing the merger and the future operations of the Chisago City and Lindstrom Police Departments. The process is on a timeline to become finalized, with all operations under one department structure, by January 2004.

Elected representatives from Wyoming,, and Sgt. Scott Dexter and retiring Wyoming Police Chief Mike Temte also attended the meeting.

Wyoming Mayor Vern Haag explained that Wyoming wants to investigate joining the new Lakes Area Police (LAP).

Haag said the January 23 exit date for Temte's retirement has "accelerated" Wyoming's need to look into policing options. Chief Temte has, however, offered by way of a letter to Wyoming's city administrator Dennis Coryell, to "defer" his leaving if there's a consulting or coordinating role he might play in the Wyoming department's future.

Sgt. Dexter mentioned he has 18 years with the police and questioned personnel and structural issues in a future merged department.

LAP commissioners did not outright decline Wyoming's request for investigating joining LAP, but all said the timing is inappropriate.

The commission members responded they need to see the two-city merger get up and running.

Maybe in the early months of 2004 the matter of integrating Wyoming personnel and service territory could be looked at.

Canine and Carlson shared that this merger of the two cities' departments has taken many, many months of groundwork, and Carlson said this policing issue has been on and off the table here since he was first elected 20 years ago.

Wyoming City Council member Sandra Standridge is city police liaison and she mentioned that some Wyoming officers have many years' service. Some are very concerned about how the organizational issue will be addressed.

She said there's questions about interfacing with the state patrol for I-35 calls, and noted other issues Wyoming officers and staff have.

The police commissioners agreed that those and lots of other questions still need to be addressed in any process of combining Wyoming with LAP.

In other business:

The commission members "elected" the chairman by coin-toss. Mayor of Lindstrom Keith Carlson will chair the commission through 2004. Council members Trudy Canine of Lindstrom and Karen Dincau of Chisago City and Chisago City Mayor Chris DuBose are the other commissioners.

They set the second Wednesday of each month as the regular meeting date, and the Chisago County Press as the official newspaper for legal notices, ads, etc. Tom Miller Law Office, in Wyoming, will serve as legal counsel for the commission.

After some discussion about establishing a legal depository, the commission went with the branch of Security State Bank of Marine, located in the middle of the new department's territory, at County Road 14.

Trudy Canine suggested the new department use a bank not now used by either city, to spread the funds around and "completely separate" any existing Lindstrom or Chisago finances from police commission accounts. Gail Wilson of Chisago City municipal staff is treasurer and will handle the commission finances.

The new badge design was okayed. The officers already employed on the two city departments will be allowed to keep their old (collector) badges. Shoulder patch design and uniform shirt color (dark blue) were also given the okay.

Squad cars will become white, through attrition-replacement. The squad graphics were approved by the commission and feature the Chisago City logo- fish and the Lindstrom coffee pot water tower.


---
December
SUN
MON
TUE
WED
THU
FRI
SAT
Today's Events
No calendar events have been scheduled for today.
December
SUN
MON
TUE
WED
THU
FRI
SAT
Today's Events
No calendar events have been scheduled for today.