October 23, 2003 at 1:10 p.m.
Chisago Soil and Water Conservation District chooses F. Willard and Jeanette Carlson as Outstanding Conservationists for 2003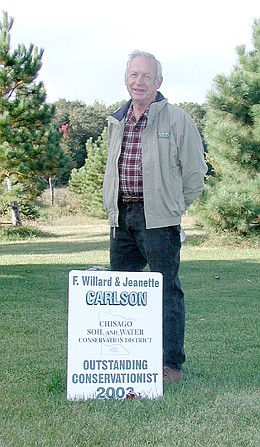 ---
F. Willard and Jeanette Carlson will be eligible to compete for Minnesota's Outstanding Conserva-tionist Award, which will be announced at the 2003 Minnesota Association of Soil and Water Conservation Districts annual meeting set for Nov. 30-Dec. 2 in Bloomington. The state's SWCDs are currently recognizing individuals and organizations for outstanding accomplishments in implementing conservation practices and improving Minnesota's natural resources.

According to Roland Cleveland, Board Chair Chisago SWCD, F. Willard & Jeanette Carlson have been recognized for a variety of reasons. Following is a summary of some of the reasons why Willard and Jeanette were chosen:

•While actively farming, the Carlson's implemented minimum tillage, installed field wind breaks, riparian buffer strips and filter strips.

•They also enrolled the more sensitive areas of their cropland into either the Conservation Reserve Program (CRP) or the Reinvest in Minnesota (RIM) easement program.

•Since retiring the Carlson's have taken a very conservative-minded approach in the development of their property. Carlson is the lead person in each of the developments. He looks at the land, and with assistance, has formed developments that allow them to sell the property yet maintain the natural state of the land. The Sunrise Trails development was the first large Planned Unit Development within Chisago County.

"We're really proud of Willard & Jeanette and what they have done for conservation in Chisago County," said Cleveland. "They have been an example of successful conservation farming and now in retirement they continue the ethic and the commitment through development plans that focused on land stewardship. This is leadership all of Minnesota can be proud of and not just in the farming community."

For more information on the program, contact the Chisago SWCD at 651/674-2333, or visit our web page at www.chisagoswcd.org .


---
December
SUN
MON
TUE
WED
THU
FRI
SAT
Today's Events
No calendar events have been scheduled for today.
December
SUN
MON
TUE
WED
THU
FRI
SAT
Today's Events
No calendar events have been scheduled for today.