September 25, 2003 at 12:19 p.m.
Park friends host party at Visitors Center
Come celebrate 25 years of trails; rolling river, trumpeter swans, prairie vistas and winter wonderland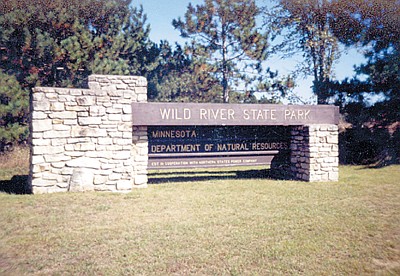 ---
The 25th anniversary of the founding of Wild River State Park will be celebrated this weekend. The park "Friends" host a cake and ice cream birthday bash at 4 p.m. at the Visitor Center. Park Naturalist Dave Crawford will present a program on bringing back the native prairie at the park, beginning at 1 p.m. Seed harvest teams head out to collect seeds about 2 p.m.

You can join in for the whole day, or portions...whatever you have time for and whatever your interests are.

******

Over 150 years ago; the site of Wild River State Park was part of the route of the Military Road, that ran from Hastings to Lake Superior. The local economy started to boom around the mid to late 1850s when Sunrise and Amador came into existence and logging was strong in the area around the park. The white pine logs went downstream on the St. Croix River to markets out of Stillwater. Nevers Dam, which is now an historic overlook within the park trail system, was established on the river in 1890. Nevers Dam shut down about 1912.

Wild River was set up by state law 25 years ago as a 6,803 acre state park. The Northern States Power Company donated 5,000 acres. The name Wild River comes from the federal designation of the St. Croix River as a protected riverway in the National and Scenic Wild Rivers Act.

Wild River State Park has 30 miles of hiking and cross country ski trails, a portion of which is paved for in-line skating, stroller walks or handicap accessible visits. There are 96 drive-in campsites and two year-round cabins and a guest house that accomodates eight. The flush toilets in the campgrounds are usually shut off in late October.

The equestrian camp has 20 sites and horses are allowed on marked trails in the park.

There's also eight canoe sites along the river's edge and eight backpack-in camps.

Wild River reports 182,545 annual visits.


---
December
SUN
MON
TUE
WED
THU
FRI
SAT
Today's Events
No calendar events have been scheduled for today.
December
SUN
MON
TUE
WED
THU
FRI
SAT
Today's Events
No calendar events have been scheduled for today.