April 30, 2004 at 10:32 a.m.
Punching through to the Pros
After a difficult journey, two local boxers are finally realizing their dream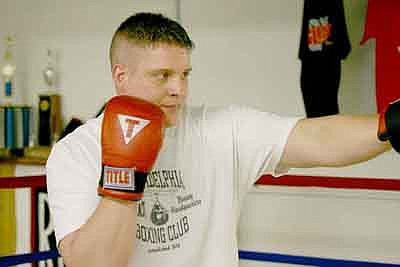 ---
Tony Grygelko and Brad Laffin both feel that they are on the road they are meant to be on. Yes, it's been a windy road, bumpy at times, but a rewarding one. Ever since duking it out in Laffin's yard, using a garbage can as a bell, boxing has been in their blood, and even the most difficult road hasn't been able to keep them off of it.

This Saturday, it will all feel worthwhile.

Grygelko and Laffin, both North Branch graduates, will step into the boxing ring May 1st in Fridley, Minnesota. Although they have both taken that step before, this time, there will be much more meaning behind it. There will be a lot more to gain- a lot more to lose. Grygelko will be fighting Brian Sargent Jr. in his first career professional boxing match. Laffin will be fighting in his second career professional fight.

The event is being called "May Day Mayhem." In all, eight fights will take center stage beginning at 7:30 p.m. at the Minnesota Sports Café.

"It's going to be the real deal," said John Hoffman, A-CR boxing director. "We are talking about professional boxing. People need to know that two of those boxers are home grown, both professionals."

Hoffman knows a little bit about what it means to be a professional boxer. He was one for 11 and a half years, boxing in over 100 amateur fights before that. The Minneapolis native made his jump to the pro ranks at age 19. Now he's giving back by starting up the Anoka-Coon Rapids Boxing Club, a gym that's been open for 14 months, a gym that 11 professional boxers call home. Grygelko and Laffin are two of them.

Grygelko and Laffin's journey began back in high school. Both were stand-out athletes. While Grygelko starred on the wrestling mat, Laffin bruised opponents on the football field and basketball court. However, when Laffin was 16, he shattered one of his legs in an auto accident. Although the injury would basically put an end to his hopes of playing in college, it opened up another door, even though he didn't know it at the time. While working at a shipping company, a twist of fate entered into the equation. Working side by side with Laffin was Ron Lyke, a former boxing pro himself, who spent time training some boxers on the side out of his garage. Up until that point, boxing was more of a hobby for Laffin than anything. One trip to Lyke's garage was all it took to turn a hobby into a obsession. Laffin was hooked. The journey began.

Meanwhile, after finishing a successful wrestling career at Augsburg, Laffin brought Grygelko, his best friend, with him one day for a training session. The rest is history. The journey had begun for both of them. Since that time, the training location has changed but the fighters goals have not. They're ready to take the next step.

Which brings us to May 1. After a successful amateur career, a career in which he won the Upper Midwest Golden Glove championship in 2003, Grygelko feels he's gone too far to stop now, he's gone through too much.

Four year ago, Grygelko broke his left elbow during a fight. Doctors not only told him he would never be able to fight again, but they said he might never be able to use his arm again. Still, Grygelko didn't listen, embarking on a rigorous and painful rehabilitation program that has seen its share of ups and downs. It was mostly downs early on. Most of his 11 amateur losses came while Grygelko was beginning his comeback. Things just weren't clicking.

"I guess it was psychological," said Tony Grygelko. "I was real hesitant with my left arm, I just couldn't get past that. Things just weren't clicking. That's the way it went until last year when all of a sudden, his elbow, and his game began to turn a corner. Grygelko won the Upper Midwest Region title by TKO in 2003. However, the win came with a price. After qualifying for the Nationals, his trip was cancelled after one of the plates in his elbow shifted. Another speed bump on a long and bumpy road.

"We were actually deciding whether or not I should give it up," remembered Grygelko. "Basically, Ron and I decided that I might as well keep on going until I have to have surgery again. I can deal with the pain."

In other words, Grygelko is fighting the clock, which is one reason why his pro debut on Saturday seems so surreal. Win or lose, he's made it.

"I'm going in there to win. I want to destroy my opponent so I can get in and out of there as much as possible," said Grygelko. "I'm going to give it 110 percent, and that's really all I can do. I'm going to give it everything I got and we'll see what happens."

John Hoffman is expecting great things.

"Tony is a patient boxer who hits hard and slows things down. He will be hurting a lot of people," said Hoffman. He's in great shape. He transformed from wrestling. He works hard. He took that work ethic from wrestling and carried it over. He shows people what hard work really is."

"Tony's fight will be a rough fight. He's going to have to match punches with him," mentioned Ron Lyke, Grygelko and Laffin's trainer. "Tony's stronger, I know that, but he's going to have to stay low and match punches with this kid. He's in great shape. He's been running and working hard. It's going to be a tough fight but I believe Tony should win."

The same can be said about Brad Laffin. Fighting in the heavyweight division, Laffin is catching the eyes of the boxing world with his size, power, and agility. Standing at 1-0 as a pro, Laffin will face Rick Zufall, a 245 pound brawler from Indiana.

"Brad is as fast and as strong as any heavyweight out there and I mean any heavyweight," remarked Hoffman. "Now he needs to establish himself as a boxer and that takes time. He's got the skills. Oh, god, he can crush a man's skull with that right hand, he's extremely powerful, so he's got all of the tools."

Tools is a good way to describe it. Despite a leg that will never be the same and a recovering broken cheek bone, Laffin has also persevered. Even with his injuries, he has trained harder than ever, losing 20 pounds since his first fight. In addition, Lyke has helped Laffin perfect his jab. Add in a devastating right hand and you start to see why this North Branch native is already making a name for himself.

"If he sticks to it and his head stays straight, he punches to his ability, he's got as much talent as anybody around," smiled Lyke. "He can go as far as he can go, it's up to him. He's got all of the ability."

"I feel that my strength in the ring is that I have a good jab," remarked Laffin. "I have heavy hands so I can knock anybody out with either my left or my right, it's just a matter of how they want it. I definitely have to start adjusting to the pro style, picking my shots, and just settling down in the ring. I feel that I have all of the tools to be very successful, but it's going to be up to me, how far I want to go."

According to everyone who has worked with Laffin and Grygelko, their desire to succeed is the main reason why they are doing just that. Armed with speed, agility, and a lethal right hand, it seems their greatest weapon is their heart. That, and their friendship.

"Tony's really helped me a lot," replied Laffin. "He's always been there for me, in and out of the ring. He's really helped me prepare for this fight. We've both worked really hard. We want to make a name for ourselves in this sport, we both feel this is where we are supposed to be. We're both going to make it."

Ask anyone from North Branch or Stacy and they'll tell you that they already have.

May Day Mayhem:

Where- Minnesota Sports Cafe'

When: Saturday, May 1- 7:30 p.m.

Price: $50 for ringside seats, $20 for general admission tickets.

Call 1-763-712-5868 for more information.


---
December
SUN
MON
TUE
WED
THU
FRI
SAT
Today's Events
No calendar events have been scheduled for today.
December
SUN
MON
TUE
WED
THU
FRI
SAT
Today's Events
No calendar events have been scheduled for today.