January 16, 2004 at 11:00 a.m.
Jewelry trade moves aside for printworks
New business to locate in local shop run by two generations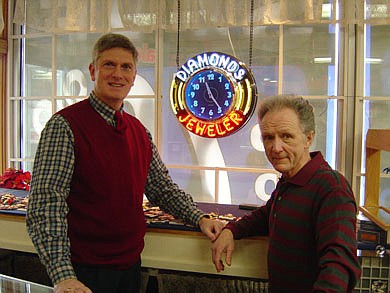 ---
One year shy of the 50th anniversary of his store being established; Ki Gulbranson, second generation Lindstrom jeweler, is closing-up shop. The final day for business is Saturday, January 17.

Ki's father, John, came to Lindstrom in 1955 from Shell Lake, Wisconsin. He bought the old Leslie Jewelry Store, building the foundation for the Gulbranson reputation on the site where Lindstrom State Farm Insurance is.

Within four years-- 1959-- John Gulbranson moved this enterprise to the building that had once housed the town cinema...and there's been a Gulbranson-family operation in this location ever since.

John's shop was known as "The Time Gift Shop" because it traded in many items. Ki explained that decades ago people just didn't buy and wear the amounts of jewelry that's commonplace now. John sold fine china, prestigious "spode" dinnerware and other gifts.

John Gulbranson held open houses on Sundays which was an innovation in commerce. Ki said the Dinnerbel owner (nearby restaurant) would coordinate with John on these days in order to schedule sufficient waitstaff for the influx of people to town.

Russian Tea was also served in the shop, with Ki's mother Charlotte and her friends helping to make the refreshments. Tea was served on the very merchandise available from the shop.

Ki graduated from college in 1977 and became the second generation jeweler to own and operate the business. Over the years he adjusted the name to J. Gulbranson Jeweler; concentrating on timepieces and jewelry, and smaller gifts.

Ted Tokay, the clock and watch repairman, is going to continue to do his fine work from his home, after the last day of business Jan. 17. Tokay can be reached at 257-1185.

Between that last day of business and mid-March, the inside of the jewelry store is being totally rehabbed preparing for the grand opening of a new business on site.

Ki and wife Margo are putting their energies into Goldstar Printworks, a silk screen printing, embroidery and promotional products company.

The printworks is already putting out product. There is a 15-square-foot automatic screen printer erected in the backroom of the jewelry store. It's a many-armed mechanical-electronic unit capable of churning out an item like a printed T- shirt every eight seconds, Ki states. Just the new wiring and generator installation for the printworks ran up 100 hours for the electrician, Ki mentioned.

Margo is the artist and can design logos, graphics, whatever you need printed. Or they'll print what you bring in.

Ki and Margo met in 1988 at the Minnesota State Fair when Ki stopped at her "Cloud Nine Factory" crafts booth.

They married in 1989 and have five children: John, Shiloh, Per, Hans and Nils.

Margo operated a screen print business out of the rear portion of the jewelry store a number of years ago, but sold that business. Goldstar Printworks brings her back into the arts field to use her talents, and this time the whole family is involved.

Goldstar Printworks will hold its grand opening sometime this spring. Watch for details.

Ki thanks all the patrons of the jewelry store and Time Gift Shop for their business, for visiting in these final days before closing and for the kind words.

He mentioned people have come in during the sale to tell him they bought their wedding diamond decades ago from his father, or to share a warm story about the store. He looks forward to continuing being a part of the Lindstrom area business community.


---
December
SUN
MON
TUE
WED
THU
FRI
SAT
Today's Events
No calendar events have been scheduled for today.
December
SUN
MON
TUE
WED
THU
FRI
SAT
Today's Events
No calendar events have been scheduled for today.