January 22, 2004 at 2:00 p.m.
Taylors Falls alumnus promotes literacy and his publication at school where he learned to love books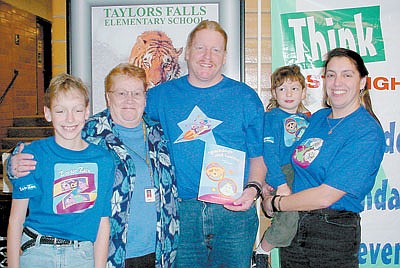 ---
Bob Madison, a 1981 Taylors Falls graduate, returned to his old school and spent a day reading a book he's published to small groups of younger Taylors Falls students.

The book is "Spacedogs and Goons."

It's a rhyming-format story that Madison originally made up for his own two sons-- ages 10 and four.

He self-published the colorful little book, illustrated by his sister-in-law Kim Straitiff.

Madison's mother Sharon is a library para-professional at Taylors Falls School and it seemed a good idea to return to where he first learned about books to share his own writing with youngsters.

It's also kind of a test market endeavor, Madison explained. Aside from his two boys and close family members he was curious to see how a broader audience of young readers reacted. Madison donated a copy of "Spacedogs and Goons" to the Taylors Falls School.

It was good to be back in the building, he said. Madison read inside one of the portable units on school grounds. They had a portables back when he was at school too, it was called "the clubhouse."

(Taylors Falls was a K-12 facility in the late 70s and 80's. When the Taylors Falls District and Chisago Lakes District merged, Taylors Falls became K-5th grade.)

The publication of "Spacedogs and Goons" took about two years, while the story itself was written in probably an hour, Madison said. "It's been an interesting process. The stories come quickly," he added, "the rest takes time."

He said he wanted to publish a story that kids would like to listen to and that parents wouldn't tire of reading.

Madison works as a carpenter and travels extensively building concert sets. He has settled in his wife Mary's hometown of Manitowoc, Wisconsin.

The book is available by contacting Madison at 1634 Atlanta Circle, Manitowoc, Wis. 54220 or at [email protected]. He's working on getting a second book out called "Z is for Zark."


---
December
SUN
MON
TUE
WED
THU
FRI
SAT
Today's Events
No calendar events have been scheduled for today.
December
SUN
MON
TUE
WED
THU
FRI
SAT
Today's Events
No calendar events have been scheduled for today.