September 30, 2004 at 7:52 a.m.
Accident in butcher shop sends state representative to hospital; full recovery is expected, Nelson says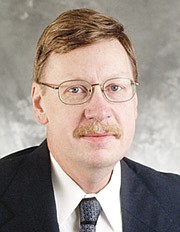 ---
State Representative Peter Nelson is making a steady recovery from an accident last week at his meat processing business in Lindstrom. He said he has been told by doctors to anticipate 100 percent recovery within a couple months.

Nelson was working at Community Market Tuesday morning, Sept. 21, when he said he ducked and tried to protect himself from a carcass that was falling or going to hit him-- in the meat cutting room. He had a knife in his right hand and he sliced through his left wrist and forearm, severing a radial artery and tendons.

He passed out from loss of blood, which doctors later determined to have been about five pints.

Nelson was transported to Fairview Medical Center in Wyoming and airlifted to Regions; he said he was unresponsive and had no pulse.

Surgeons took a vein from one of his arms to replace the damaged artery and repaired the laceration.

Nelson is back home and he said his blood pressure is good and he starts physical therapy soon.

"It was an accident in the truest sense," he said. "There really was nothing anybody could have done differently or planned for." On his medical care and speedy progress toward healing he remarked, "I was a blessed guy."

Nelson, Republican, is in the midst of campaigning for re-election against Jeremy Kalin, DFL.

Kalin released this statement, "I extend my sympathy and good wishes to Pete Nelson for a full and quick recovery...While Pete Nelson and I disagree on the issues...I look forward to having him out on the campaign trail again soon, so we can continue our spirited discussion about the issues important to Chisago County."


---
May
SUN
MON
TUE
WED
THU
FRI
SAT
Today's Events
No calendar events have been scheduled for today.
May
SUN
MON
TUE
WED
THU
FRI
SAT
Today's Events
No calendar events have been scheduled for today.