April 7, 2005 at 7:51 a.m.
A chance to reflect
David Olson capped off his senior season in style, becoming the Chisago Lakes boys basketball all-time leading scorer. Now Olson is on his way to Moorhead, ready to make the jump to college basketba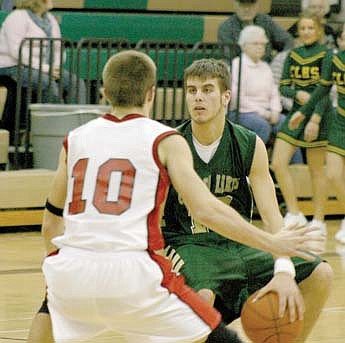 ---
The Chisago Lakes boys basketball season ended almost four weeks to the day, and still, even with all of that time to decompress, you'll still find people talking about what he did this past season.

He is David Olson, the Chisago Lakes senior who re-wrote the record books, not only at Chisago Lakes, but Olson's presence was also felt at the state level as well. In short, it was one of the best seasons, no check that, one of the best careers in the history of Chisago Lakes basketball.

After all, all he did was score 1,498 points in his career- the most in the history of the boys program. The senior finished the season averaging 26.4 points per game which was tops in class 3A. Now this week, a commitment to play college ball at Minnesota State-Moorhead, a Division Two program, the same school his older brother Chad went to play football. Since charging onto the basketball radar as a sophomore, everything has fallen into place.

"I expected it," said Olson. "I was just getting better and better. I was working hard on my game during the offseason, at camps and at practice. I felt myself getting better and I expected to do well."

Oh sure, we all expected him to be good, but this good?

Coming off a junior season where he was named all-conference after averaging 18.4 ppg, Olson's trip to the top took a shortcut last summer when he was selected to Team Glory, an elite Minnesota AAU basketball team, made up of some of the best players from around the state. Olson was one of 11 players on the team, taking part in tournaments in Minnesota and across the country. It was a once and a life time experience that David was determined to make the most of.

"I improved in every aspect of the game. Everyone we played was really good, especially at Nationals," mentioned Olson. "It made me a lot quicker because when you play at that level, everyone is just as quick as you are. I got back here and the competition wasn't as good so I found that I was a lot quicker against them."

Chuck Olson, David's father, noticed the improvement immediately, both on and off the court.

"Herb (Jangor) was basically the only coach David had until that point. Herb preaches discipline, but last summer, he really played for a disciplinarian in Charles Paxson," remarked Olson. "For a couple games last year, when they were still playing in Minnesota, Paxson was just spot playing him. David accepted that. He was supportive on the bench, he always joined the huddle during timeouts. He eventually became the starter once they hit the road but I think that experience taught him patience and it showed him things will come to him if he works hard."

And make no mistake, Olson worked hard, even giving up baseball to concentrate solely on basketball. His summer was spent on the court and in the backyard. Once fall hit, it was obvious that his hard work paid off. Just ask his high school head coach.

"He went to a new level. He improved his ball handling skills, his ability to score," said Herb Jangor, Chisago Lakes head boys basketball coach. "He was a player who had all three weapons- he could score from the three-point line, he could drive and hit a lay-up, and he showed that middle game. He was able to hit that 8-10 foot jump-shot. That was a big part of his game this year. His ability to hit that dribble off the jumper was tremendous."

What followed was one of the best seasons in the history of the program, even the state. He began the year with 41 points in the 'Cats season-opening win over Mahtomedi. The 41 points matched his previous high of 41 scored against Pine City as a junior. Even more impressive than the amount of points he scored was how he did it. Olson finished the game hitting 15 of 24 shots. Once you do the math it comes out to 62 percent from the field.

From there, Olson continued his tear by scoring 34 and 25 over the next two games, giving him a total of 100 points in his first three games.

"In 20 years of basketball, I've never seen a guy who can score as many points as he does without you really noticing it," mentioned Jangor. "After most games, I'd ask my assistants how many points he had and I just dropped my jaw when they told me. You knew he had a good game, you just know he had that much. He was just able to score in so many ways."

"I was a lot better at dribbling. I could do more things. I wasn't as worried about getting the ball stolen, and because of that, I was able to make better decisions on the court," remarked Olson.

And he didn't slow down either. Through his first 13 games, Olson topped the 30-point mark six times. As a matter of fact, he was held under 20 points just twice. And he was doing it with precision, shooting over 50 percent from the floor.

Then came his official coming out party on January 14 versus Zimmerman. During that game, Olson scored 46 points in the Wildcats 104-28 win. It's believed to be the most points in a game in the history of Chisago Lakes basketball. From one game to the next, the Chisago senior continued to dominate.

"He gained so much confidence. He knew that whoever he went up against, he could either take him or neutralize him," replied Chuck Olson. "His Glory coach told me that David was the most athletic player he had ever coached in his 10 years of traveling ball. But also, your ability will only take you so far. He worked really hard to get to that level. I've said it for years, players are made in the backyard. He's put in a lot of time and it's been a lot of hard work. He gave up baseball last spring to focus on basketball, so he's earned everything he's gotten."

Far from finished, Olson continued to break records the rest of the way, scoring 20 plus points in 13 of Chisago's final 15 games. Overall, out of the 29 games played this past season, Olson scored 20 or more points in 22 of them.

And it wasn't just the points. Double-teamed and sometimes triple-teamed, Olson began to show his all-around game by getting everyone on the court involved. He finished the season with 92 assists which ranked second on the team. Known for his ability to steal the ball, Olson finished with nearly a 1-1 steal to assist ratio (92 assists and 96 steals). He committed just 84 turnovers. The numbers say it all.

"Over the last year, he realized that he had to get everyone involved to win the game. He became a very unselfish player," remarked Chuck Olson. "I think he also learned that if you have a good shot, take it and take it with confidence. I just think the game slowed down for him. If you would've asked me before the season if I thought David could do what he did, I would've said it was doable, but I wouldn't of thought it would of happened the way it did. I didn't think he was able to take over the game the way he did at times."

"It was hard getting triple-teamed all the time, but I didn't have a problem getting the ball to one of my teammates because I knew they would finish the job," commented Olson. "Just as long as we won the game, that's all I cared about. To me, wins and losses are more important than the statistics. Winning is all that mattered to me."

And the wins did come. Paced by Olson, the Wildcats went onto win the conference title, advancing to the section championship before a loss to Andover finished their year. Still, the 'Cats finished with a season record of 25-4, the best record by a Chisago Lakes boys basketball team since the 2001-02 season.

As for Olson, he finished his senior campaign with 767 points, tying him for 22nd all-time in the state of Minnesota for most points in a single season. Former Gopher and current Utah Jazz Kris Humphries is 21st on the list with 782 points during the 2001-02 season. He was also named all-state honorable mention, becoming just the second player under Jangor to be given such an honor.

And it wasn't just points. His 96 steals in a season fell just short of putting him on the list for most picks in a season in state history, and he also fell just short of making the list for the most steals in a career. In addition, Olson's 257 field goals made left him 43 shy of cracking the top 15 all-time in the state for most field goals made in the season.

At the conference level, in addition to leading the conference in scoring, Olson led the Rum in steals and finished third in three-point percentage, shooting 40 percent from beyond the arc. He also shot 50 percent from the floor, hitting 257 of 509 shots. Olson only averaged 17 shots per game.

"He just made everyone around him better," said Jangor. "He was always labeled a gunner and I think if anything, he should have shot the ball more times."

Several people shared that opinion, including college coaches from around the country that came and scouted him. As the recruiting battle raged, Olson narrowed his choice to three, then one. Over the weekend, he made it official by verbally committing to play basketball for Minnesota-Moorhead. Early plans have him redshirting as a freshman. To David, it doesn't matter.

"I'm just going to work hard. It's a big step up from high school," replied Olson. "I'm really excited about it. I'll redshirt next year. They have another guard who is a freshman, so when I play as a (redshirt) freshman, he'll be a junior. I'm going to have to work hard. Everyone is just as good as you are. I'm ready though and think I can make that jump."

Why not, he's done it before. Herb Jangor remembers when David was a sophomore, he's seen the improvement first hand. Jangor knows by experience that when the time comes, he'll be ready.

"I watched him for more than three years, but during his three seasons playing for me on the varsity, some of the moves he's made has amazed me. I remember thinking to myself on the bench, how in the world did he do that?," laughed Jangor. "Without a doubt, he's one of the best players in my 20 years that I've been around. You can never say the best because you're talking about different players who do different things, but he's definitely in the same category with Jeremy Burgin and David Peterson. He has unlimited potential."

We've seen it, now it's time for Moorhead to get a glimpse.

Look out.


---
June
SUN
MON
TUE
WED
THU
FRI
SAT
Today's Events
No calendar events have been scheduled for today.
June
SUN
MON
TUE
WED
THU
FRI
SAT
Today's Events
No calendar events have been scheduled for today.