February 17, 2005 at 7:52 a.m.
Jail - justice center, project planning review brings forth ideas for system improvement but facility site and size yet to be decided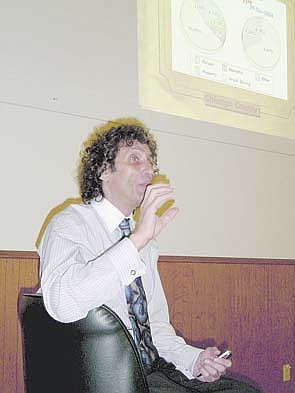 ---
What function of county government operates 24 hours a day, seven days a week and probably exposes the county to the greatest possibility of lawsuits?

What service is county government absolutely required to provide but has no control over who uses it?

If you answered the county jail you'd be half-way to understanding the complexity of what is taking place over these next couple of months as a plan for a new jail or justice center is prepared.

There was a symposium held in North Branch February 9 that walked about 30 interested persons through a presentation of technological advances in jail operations, jail building design innovations and that explained changes within the legal and law enforcement systems influencing what the county decides to build.

Dennis Liebert of the consulting-planning firm Liebert and Associates told the audience planning is not at the stage of identifying a site, but this "needs to be resolved shortly."

The exact size of the new jail was narrowed down last week but not finalized.

It could be anywhere from 107 beds to upwards of 200.

There were too many unresolved questions about population projections, crime incident growth and incarceration rates to set the number of beds last week.

Length of stay for inmates also is a consideration. If the county can shorten the average length of stay by funding expanded work release and Sentence to Serve programming the overall number of beds can be reduced.

Liebert compared where the process is right now to designing a new home. "I can start to layout the kitchen and the living rooms (in his jail facility planning) but at some point I need to know how many bedrooms there's going to be."

Liebert, along with David Bennett of Liebert and Associates, and a judicial system planner Dan Wiley, spent all Wednesday last week presenting information about Chisago county's law enforcement and judicial system and their relationship with the county jail.

Charts showed which agencies are making arrests, where offenders are arrested, where inmates say they live, what levels of offenses they are arrested for and what the prevalent types of crimes are.

The consultants offered conclusions based on several months of review they have done here.

They repeatedly suggested the audience move toward a "paradigm shift" in thinking about the future county jail. This shift is necessary explained Bennett because the way Chisago County does things now is not guaranteed to be the best way to do things in the future.

Wiley had a smaller portion of the symposium and mostly presented facts on the court space. The justice center concept would consolidate legal and law enforcement space into the new jail site as opposed to just moving the sheriff's department to the new jail site.

Wiley said caseloads will increase by some 57 percent by 2020. The county can expect to be seating six judges and there's space for four judges now.

"You don't have the worst courthouse in a county by any means," Wiley declared. "But there are areas of considerable crowding."

He said the jury assembly room is very insufficient. Parking is going to continue to be a problem. Courts administration offices are cramped and security needs improvements.

What's well-done

The consultants had good things to say about the courts and sheriff's department staff, about county attorney staff, probation and related services and about area police departments.

Bennett noted statistics that illustrate 90 percent of the charges alleged at the time of booking are what the county attorney ends up charging-out. He said this is an indication arresting officers are doing "an extraordinary job."

Also, 90 percent of cases are being disposed of on guilty pleas. He said in his travels across the nation he frequently sees this percentage much, much lower.

From the audience retired Judge James Clifford observed that if judges and prosecuters are fashioning attractive plea bargains, "of course they'll plead."

Bennett responded that there's nothing wrong with avoiding trial, if it is happening in "resolvable cases" and based on accurate information.

Of concern though are the number of offenders who fail to appear for court dates, which Bennett described as "alarming."

He said this tells him there is room for improvement on the supervisory and monitoring sides of the process.

Bennett pointed out that the high failure to appear rate also stems from the lengthy amount of time it's taking for a charge to be filed, then for the offender to have an omnibus hearing and for sentencing to take place.

For a felony level offense this is 241 days overall.

Gross misdemeanors are taking 105 days and misdemeanors 130 days. Bennett explained, "This affects the message being sent...I'd really like to see this process sped up."

(All the statistics track offenders from arrest in the 2003 year and cases disposed of by Christmas 2004.)

Chisago County's system of screening applicants for public defender representation is also lacking.

Bennett said of felons in 2003 62 percent got public defenders. Of gross misdemeanor cases 43 percent were represented by the public defender.

He advised the county must "staff-up" to meet pre-trial screening and background verification needs.

"What you do with the defendant pre-trial is very different from what you do post-trial," he continued. "The paradigm shift here is looking at the process from the arraignment...on, not working backwards from the trial date.

"The longer a case drags on is not an indication the defendant's rights are being protected."

Bennett said putting more funding into pre-trial and screening and/or referrals of inmates to social agencies will save money.

The beefed-up pre-trial effort also gives judges more time in the courtroom and they'll have better information on which to base decisions. Bennett said he's watched too many court sessions where judges are wasting time interrogating offenders about concerns that could be documented ahead of time, such as income, employment, housing, etc.

"You don't need around-the-clock booking staff support, but you do need to be at a level where this work is done and verified before the offender appears before a judge," said Bennett.

The symposium concluded with the consultants saying they'd be in touch again to follow-through on bed numbers and how many will be dorm style, minimum security, detainees, maximum security, etc.

Liebert mentioned, "This is not the end of the discussion it is the beginning. Every county struggles to come up with a number (project cost, size).

"We are here to help you come to the right decision and then come up with the right design."

Official timelines show July 2005 as the date for adopting a project budget.


---
May
SUN
MON
TUE
WED
THU
FRI
SAT
Today's Events
No calendar events have been scheduled for today.
May
SUN
MON
TUE
WED
THU
FRI
SAT
Today's Events
No calendar events have been scheduled for today.