May 5, 2005 at 8:45 a.m.
North Branch K-9 unit earns national certification
A couple of law enforcement veterans find partnering is to their liking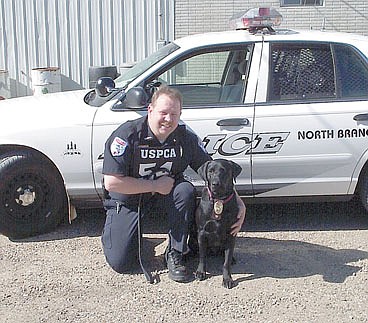 ---
North Branch Police Officer Ron Rollins said one of the toughest decisions he's ever had to make was to leave Lakes Area Police Dept. (16 years with Lindstrom Police) and accept a job with North Branch P.D.

What he didn't know then was that within a few months of heading north, he'd be tapped to be the K-9 unit handler; something that he enjoys and which has greatly improved his professional path.

In hindsight, it was like the job switch was meant to be.

With a relatively brief training bond forged between Rollins and 3-year-old K-9 Labrador "Raven" it was unexpected to hear the duo achieved national K-9 certification last week.

Raven and Rollins garnered 191.42 points out of a possible 200 at the national detector dog trials held in Oskaloosa, Iowa.

Raven had a gift box of dog treats tied to a mylar Congratulations balloon waiting for him in the police department. And, Rollins will be officially recognized for the certification at an upcoming North Branch City Council session.

In competing at nationals Raven was required to impress a panel of judges on two types of detection-- locating two controlled substance hides in separate rooms within 18 minutes and two hides out of five vehicles within 10 minutes.

Raven and Rollins came out in the top 20 of more than 90 dogs competing in the trials.

"This dog is capable of find anything, I'm convinced of that," said Officer Rollins. "It's up to me to miss something and throw him off."

Yes-- the handler is subject to nearly as much training as the dog is for K-9 units.

Officer Rollins said he's still picking up nuances in how Raven "hits" or picks up the scent of a narcotic and Rollins is learning to basically not get in Raven's way while he's working.

"You respond to the dog's behavior," Rollins explained. Something as subtle as a turn of the head means the dog has picked up a scent and the key is to not rush the animal, or hold him back and frustrate him.

Rollins has taken trainings at Ramsey County, and worked with other dog units in Pine and Isanti County. He only took over handling of Raven from Officer Scott Fitzgerald about five months ago.

Raven can sniff out many types of controlled substances. He is one of a number of specialized dogs working in the detector class; which includes animals specializing in scents of narcotics, wildlife, explosives and cadavers.

Raven has especially keen nose aptitude for cocaine, Rollins shared. "He really perks up when he's hit on a cocaine scent because he knows he's going to get to play after," Rollins said. Methamphetamine, heroin, crystal meth, Ecstacy and marijuana are also detectable by Raven.

Rollins said what's unique about Raven is that compared to Rollins' family dog, Raven doesn't have the same urges when it comes to play. Raven's got a very focused style of concentration and Rollins says it is that personality K-9 unit trainers seek out. "He gets excited when he knows he's going to go sniff for dope," Rollins smiled.

Raven was rescued from an animal shelter in Ramsey County and that's about all anybody knows of Raven's breeding. But, it was his fixation on specific play that sent the signal to his original trainer that he'd be good K-9 material.

Rollins says the transition from Officer Fitzgerald to himself is going well. Raven immediately picked-up on whom he was supposed to be working with. While the sight of Fitzgerald sets Raven's tail-to-wagging, it is Rollins who has Raven's attention and adoration now.

K-9 units in area

The Lakes Area Police Dept. has one dog--Kahn, whose handler is Officer Kurt Roettjer. Rollins said he has joined the Lakes Area unit for large scale searches such as the periodic checks done at the high school.

Wyoming Police are hoping to establish a K-9 unit and have had early discussions with the city council.

The Chisago County Sheriff's Dept. was approved last week to purchase two K-9 animals. Donations and other non-public funding should be available to pay for this, the County Board was told.


---
May
SUN
MON
TUE
WED
THU
FRI
SAT
Today's Events
No calendar events have been scheduled for today.
May
SUN
MON
TUE
WED
THU
FRI
SAT
Today's Events
No calendar events have been scheduled for today.