May 12, 2005 at 7:20 a.m.
During 60th anniversary week of VE Day
Retired doctor shares his Holocaust experiences with NB students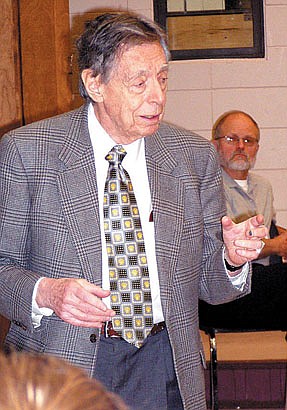 ---
He lived through the Holocaust, but he doesn't like describing himself as a survivor.

Dr. Robert Fish told the story of his experiences living in Hungary during World War II to juniors and seniors in Jim Mielke's literature classes at North Branch High School last Tuesday.

He said he shares his experiences not to tell horror stories of what he and other Jews were subjected to during Hitler's reign in Europe, but to give the students something to think about and learn from.

"I'm not here representing Jews, Hungarians or doctors. It's just my view of what happened," he said. "I'm a pediatrician, my role is to heal. I want you to take something out of here. Simply, to respect others," Fish said.

He was a teenager in 1939 when Hitler led the German army into Poland to start the war. Fish remembers knowing that the war was taking place in European countries around him, but at his home in Hungary it was pretty much life as usual, he said.

In 1944, he was close to his 19th birthday when the Germans moved into Hungary and it became one of the Axis countries. Fish said he wasn't allowed to go to high school anymore because he was Jewish.

Later, he was confronted with his worst fear. While he was at work, a man came in describing what would become known as a common occurrence for Jews during the war.

He told Fish of how a group of people – men, women, children – were put into a train car and taken to an unknown destination and didn't come back.

"It was then that I came to the realization that these people not only didn't like us, they wanted to kill us," Fish said.

On June 3, 1944 he was taken with a group of men to a work camp. It was different than a concentration camp, he said, but a living nightmare nonetheless.

"We built bridges, dug tunnels, worked nonstop," he said. Those who collapsed from exhaustion were simply killed, Fish said.

Personal items such as family photos were stripped from the men. "They took the pictures because they said we'd never see any of them again," Fish said.

At night, the prisoners were forced to sleep on the floor in dark buildings, where the stench of dying was all around, Fish said.

"It wasn't a question of what was going to happen, but when," he said.

Food and water were scarce. What little they received was when the door opened and a few sandwiches would be tossed in, on bread that was green with mold.

While recuperating from a lice-borne illness, Fish was almost taken with a group of prisoners to a local hospital, but he said he didn't want to go. "I found out later all 30 that went weren't taken to a hospital, they were shot," Fish said.

Before a group of prisoners were taken out to work for the day, soldiers would take a head count. "They wanted to see how many were still alive from the day before," Fish said.

Fish remembers the date – May 4, 1945, when American forces liberated camps in Hungary. He was so weak, he was unable to go and meet the soldiers, Fish said.

He made it back home, but Fish's father was not as fortunate. Fish said he was among the 460,000 Hungarian Jews who died at the Auschwitz concentration camp. He was the first Hungarian brought back to Hungary for burial in a Budapest cemetery; many were buried in mass common graves.

Fish tried to go on with his life, but it was difficult with no family members left alive except for his mother.

"I was full of hatred," he said. "I thought the only thing keeping me going was thoughts of killing them [Germans]."

The turning point was when a scared, starving German soldier came knocking at his door.

"What was I to do? The same thing they were doing to us, then I'm just like them," Fish said. "So I gave him some food."

Fish said it is incomprehensible to the students to think about the loss of human lives during WWII. "You can't understand 59 million people being killed," he said. "But you can remember number one. One of those people was just like you. One of them wanted a future, had a parent who loved them and then it has meaning."

Fish changed his outlook on life after the war and learned to let go of his hatred and focus on love, he said.

"Even from the worst experience we can learn something good," he said. "You have to remain human even during inhuman circumstances."

This is the theme Fish used in his first book, "Light From the Yellow Star: A Lesson in Love from the Holocaust." It is a collection of phrases and poems connecting his artwork in the book to his feelings and memories from living through the Holocaust.

Fish came to the United States in 1957 and ran a successful pediatric practice until his retirement. He lives in Minneapolis, where an exhibit of his artwork and letters from students he's spoken with is on display at the Minneapolis Institute of Arts through May 15.

Fifty years after suffering through the Holocaust, Fish received a letter from the American soldier who liberated his work camp. He asked Fish to accompany him back to where the camp was located.

It had turned into a forest, Fish said. At first, he didn't feel anything when he stood on the same spot. The soldier was very emotional, however. "When he talked about opening up the doors and the prisoners crawling out and crying at his feet, he cried," Fish said.

Still, he didn't feel anything. It wasn't until a woman came around with a photograph of her father, asking if anyone recognized him, that Fish cried. "I realized that 50 years later, she was still looking for him."

Fish told the students it was up to them to understand history and learn from it.

"When I was your age I hated every minute of history class, he said. "But in order to understand yourself, you need to understand your ancestors."

He said the attacks on Pearl Harbor in 1941 and on the U.S. on 9/11 weren't unexpected at all. "Japan attacked Russia 50 years earlier...and terrorists tried to destroy those buildings in New York City, the twin towers, years earlier. That's what history is all about."

Fish said nothing will change in the future unless people start standing up against injustice. "If unfairness can happen to one of you it can happen to any of you," Fish said.

After speaking with the students in the morning, Fish came back for a question and answer session with the students following lunch.

One student asked how a work camp was different than a concentration camp.

Fish said even concentration camps were different from one another.

"Auschwitz was different. It was a camp where mass murder took place. In one day, 30,000 were killed there," he said.

He said work camps were still very brutal places. "You'd work in a stone quarry, carrying 50- to 100-pound boulders up a hill," he said. "If you dropped it, you'd be shot."

Fish said he didn't intend to sit down and write a book when students asked how long it took to write. "Holocaust was like your sickness," he said. "You don't want to write about it. I'm a happy person, but every night I dream about something awful."

He said the book came about after his first talk with high school students. The principal said he had such an impact on the audience, he should write a book.

Fish recently completed his second book of artwork. He read some excerpts from the book, as well as showing slides of his art from both books.

He left the students with the message to accept differences in one another and respect each other.

"All of us deserve an opportunity to achieve to our potential," he said. "No where is this opportunity better than in the U.S. Learn to enjoy what is different and always remain humane to everyone."
---
May
SUN
MON
TUE
WED
THU
FRI
SAT
Today's Events
No calendar events have been scheduled for today.
May
SUN
MON
TUE
WED
THU
FRI
SAT
Today's Events
No calendar events have been scheduled for today.