November 10, 2005 at 7:40 a.m.
Hunter, Ramberg and Hasleiet run at Northfield
Three area athletes run in State Cross Country Meet
All three improve times compared to last year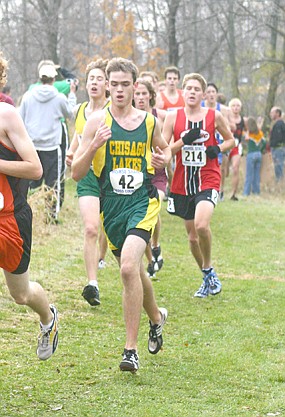 ---
Three local athletes ran in the State Cross Country Meet Saturday, November 6 at St. Olaf College in Northfield. All three, Zach Hunter, Nick Ramberg and Haley Hasleiet, were back after qualifying for the meet for the second consecutive year.

Ramberg, a North Branch junior, earned a spot in the state meet by finishing fifth in the Section 7AA Meet. Last year, he completed the race in 17:29, good enough for 78th place. in 2005, he finished the race, over the same course in 16:49, which put him 54 of 153 runners.

Representing Chisago Lakes, Hunter, also a junior, qualified for the state event with a seventh place finish in the Section 7AA meet. In 2004 he was 113th in 18:02. This year, he improved to 17:03, for place number 70.

Hasleiet, only an eighth grader, suffered a knee injury in the Section 7AA meet, but still managed a tenth place finish. At last year's state meet, she finished in 17:14. This year, despite battling the sore left knee, she turned in a 16:58, which put her 137of 157 runners.

North Branch head coach Ward Gilkerson said that Ramberg ran a "Very strong race. He ran a 17:12 at the Section Meet and a 16:52 at the Milaca Mega Meet, but, this was one of his best."

Assistant coach Brian Hasleiet, also the proud father of Haley commented, "The knee was pretty sore. But, she toughed it out and finished the race."

According to Wildcat head Coach Joy Hagen, "Zach met both his goals. He wanted to finish in the top 70 and he wanted to come in around 17 minutes."

Hagen is excited to return next year. "With a runner like Zach to build around, I'm really looking forward to next year," she said.

Coaches from both schools took time to emphasize that they have the privilege of working with nice kids. That's what make all the long hours and the extra work worth it.

Congratulations to the runners, their teammates and the coaching staffs. Well done! We look forward to next year, too.
---
June
SUN
MON
TUE
WED
THU
FRI
SAT
Today's Events
No calendar events have been scheduled for today.
June
SUN
MON
TUE
WED
THU
FRI
SAT
Today's Events
No calendar events have been scheduled for today.