August 10, 2006 at 6:48 a.m.
Benson's memories in oral history collection
While not in the history books, August 10 is a date that local WWII veteran would long-remember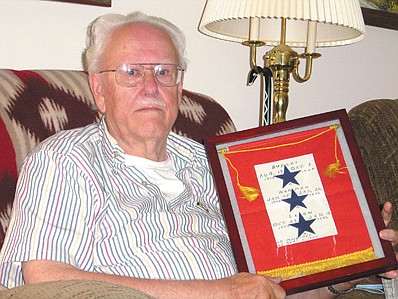 ---
When Norman Benson recalls his years in the Army and the celebration at his Army base on August 10, 61 years ago-- he easily speaks of the pleasant memories. The day after the second atomic bomb landed on Nagasaki loudspeakers on Benson's base proclaimed an expected Japanese surrender. (The actual acceptance of the Potsdam Declaration by the Japanese wouldn't happen until August 14.)

Benson said, "...the whole island exploded, everybody was shooting off anything they could get their hands on, rockets, guns, machine guns...it was 10 or 11 o'clock at night." He said at one point things got so crazily-jubilant he crawled into a culvert for protection, and that's when he snapped the photo, see this page.

Okinawa, where he was stationed with the Army Engineers, was a pretty island, Benson remembers. "There were trees overhanging the roads, very scenic." Then, he talked of landing at the island and having to push bodies aside in the water coming ashore.

He remembers writing to his mother Esther Benson of Center City, and sending off small items for her to hold onto and show others...Army payroll receipts...anything as evidence that her son was well and thinking of home. His mom saved it all.

The little things meant a lot and they still do.

That's one belief Benson holds close from serving in the war, along with the realization there's nothing in life that's "free."

Assigned to the construction corps Benson worked hard in the Army...12 hours on and 12 off and didn't get any leave or vacation the whole time he was in. (Except for a few days he recuperated from pneumonia.)

Like many of his generation, Norman Benson, born in 1924, was told World War II would be a war to end all wars. In his life he has seen so many conflicts erupt and young men and women leave home to fight that he isn't sure at this point there's ever going to be an "end" to war.

Benson does think that all able bodied people should serve in the military because it teaches discipline and military service caused him to grow up, he said. He got a career out of the Army experience too.

Benson spent his working years in construction after the war; and retired from the conglomerate Opus Rauenhorst. Benson helped build an addition to Lakeside School and the Hazelden campus, among many other area sites.

When he was a youth and walked to school he recalls his route took him past a carpentry crew building a home in Lindstrom, where he attended school. Benson would slow and watch, and got to talking with the guys. One day they jokingly asked him 'where's your hammer, if you're so interested.' He said they handed him a hammer and there was no turning back, he had found something he enjoyed.

Benson and three brothers served in WWII at the same time, with himself and Rupert going overseas and the other two Benson boys staying on U.S. soil. No surprise then, as Norman got off the bus in Center City, after final discharge out of Camp McCoy in Wisconsin, that the first thing he noticed was his father's snow white hair.

"It was all black when I left," Benson adds.

The History Project

Benson's story and the stories of about 14 other veterans have now been documented as part of a local oral history collection. The interviews are kept for posterity on videotape and/or compact disc.

The Veterans History Project is a program of the U.S. Library of Congress. Interviews are conducted in Lindstrom at the Tourist Information Center and Chamber of Commerce building.

Local coordinator of The Veterans History Project is Don Bungum. Please get a hold of him at 257-4172 or 257-1786 if you'd like to participate in the oral history collection.

If you served in World War II, in Korea, Vietnam, the Gulf, Afghanistan or Iraq, your story is important. Interviews take about one hour.

The program was established by Congress with funding from AARP and tax revenue. Copies of the interview videotape or disc go to the County Historical Society, Library of Congress and the person being interviewed retains a copy.
---
November
SUN
MON
TUE
WED
THU
FRI
SAT
Today's Events
No calendar events have been scheduled for today.
November
SUN
MON
TUE
WED
THU
FRI
SAT
Today's Events
No calendar events have been scheduled for today.