June 8, 2006 at 7:45 a.m.
Three Wildcat golfers tee it up at section finals in Coleraine
Angrimson's 155 earns a trip to State held at Bunker HIlls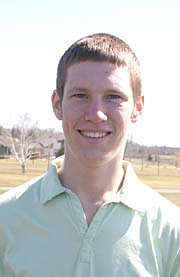 ---
Chisago Lakes High School golfers Luke Angrimson, Scott Liebsch and Aron Duren earned their way to the second round of the Section 7AA Golf Meet with their first-day scores at Eagle Ridge in Coleraine. The second day of the meet was played on Memorial Day (May 29).

Angrimson's two-day total of 155 strokes (78+77) qualified him for the State Meet at Bunker Hills June 6 and 7. "Luke was in the fourth position after day one and his opening nine holes on Monday he shot a 42," said Wildcat coach John Hawkinson. "That start brought players who had shot 81 the opening day into the fight.  Luke, however, played very solid on the back.  He started with five pars and then added a birdie at the par five 16th.  He parred the 17th, a par 3, then hit two good shots into the par 4 18th only to have his 10 foot birdie putt fall short."

Hawkinson knew that Angrimson's 42+35=77, added to his 78 from the first day, gave Angrimson a chance to qualify for the State. "Then the waiting game began in the club house.  We sweated it out until the last group had finished.   Luke and Alex from Princeton had tied for fourth at 155...the last two to get in State."   

 Commenting on Duren's round, Hawkinson said, "He had a nine (on a hole) on the front nine which gave him a 49. But, he came back with a 42.  He had one of those holes where you lose your ability to think and slow down." 

Liebsch's round was "uneventful" according to the coach.   "Both the boys did, however, gain experience for the future.  I'm pleased with how Luke's season has progressed on an individual basis," Hawkinson added.

Like the section tournament, the format for the State Meet is composed of two 18 hole rounds. The scores for the two 18's are added together to determine the state champions. Boys and girls play at Bunker Hills in Coon Rapids.




---
December
SUN
MON
TUE
WED
THU
FRI
SAT
Today's Events
No calendar events have been scheduled for today.
December
SUN
MON
TUE
WED
THU
FRI
SAT
Today's Events
No calendar events have been scheduled for today.