June 29, 2006 at 7:24 a.m.
No purchase offer accepted for Ojiketa; feeling of hope grows that preservation is possible
Alumni campers, staff gather last weekend for reunion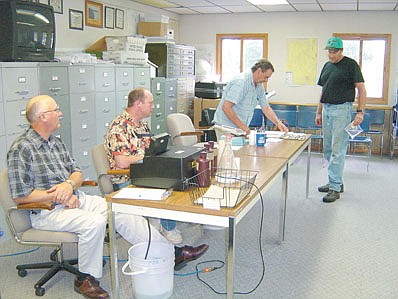 ---
Camp Ojiketa on the southeast corner of Green Lake was filled with song, laughter, the shuffle of chairs on the dining hall floor and shouts of delight as old friends reconnected. The flag was atop its pole by the bay. The aroma of "Ojiketa coffeecake" mingled with ripe banana and fresh coffee. Close your eyes and you'd swear a session of Camp Fire camp was underway.

As 60 to 70 camp alumni gathered for the Saturday morning song fest there could have been long faces; but, good news late Friday from the head of the Minnesota Council of Camp Fire USA lent this reunion a mood of hope. Camp Fire's Board of Directors had not accepted any bids for the purchase of Ojiketa. Offers on Ojiketa property were due in last week.

Judy Montgomery, one of the organizers of the alumni group working to preserve Ojiketa from being developed, said, "Instead of it feeling like the end of Ojiketa, we feel we have the gift of time now; to work with the Board and others, to raise funds and get a plan to save this place."

Later by phone, Minnesota Camp Fire Council Director Andrea Dwyer said the organization is continuing to explore options. "The bottom line is we are not going to sell (Ojiketa) for less than we believe it's worth." Camp Fire officials, Chisago City officials and preservation group members have tentatively planned to meet sometime in July to formulate the next step. Dwyer said there "...is still a degree of urgency about the sale," in order to meet budgetary concerns.

Rep. Pete Nelson, R-Lindstrom, came by the camp to share a few words and he assured everyone Ojiketa got a good reaction from a committee of state lawmakers whose job it is to tour sites applying for state aid and select priority funding applications.

The Legislative Committee on Minnesota Resources (LCMR) visits locations statewide that are candidates for lottery proceeds appropriation. LCMR members from the senate and house meet over the legislative break and toward winter recommendations are forwarded to the full legislature. Rep. Nelson suggested; should the Ojiketa funding request be approved, the preservation group can "get serious about getting earnest money together" and securing the 70-acre camp for future generations.

Nelson mentioned communication with Camp Fire's financing agent is also crucial so Camp Fire can perhaps re-structure payments due soon. It was this budget crunch looming that led directors to proceed on selling Ojiketa. (The city of Chisago City has also applied for two Dept. of Natural Resources program grants as well as the LCMR committee funding consideration. Ojiketa is actually in Chisago Lake Township, on the city's southern border, but Chisago City has taken the lead in holding meetings, supplying testimony at the capitol, even submitting its own bid to Camp Fire.)

Montgomery added that private fundraising has been going well, but she noted preservation of Ojiketa will ultimately hinge on local support. Local legislators, county commissioners, city and even Chisago Lake township officials all need to know that if they stick their proverbial necks out and keep Ojiketa from becoming a housing plat that the local electorate agree.

During the reunion weekend a few alumni campers visited the Bruggeman Company townhome development on a neighboring former camp-- Cheewin. Cheewin used to be Ojiketa's "sister camp" and was platted and developed into a lakeshore community several years ago.

Some townhome residents took alumni campers out onto Green Lake by boat and showed them around inside the Ridge Point Lodge, held by the townhomeowners' association, where Cheewin memorabilia are displayed. Montgomery has had contact with property owners directly alongside Ojiketa and said they are offering support for the preservationists.
---
December
SUN
MON
TUE
WED
THU
FRI
SAT
Today's Events
No calendar events have been scheduled for today.
December
SUN
MON
TUE
WED
THU
FRI
SAT
Today's Events
No calendar events have been scheduled for today.