June 29, 2006 at 8:45 a.m.
Retiring North Branch Police Chief's successor appointed by council; other agenda items handled this week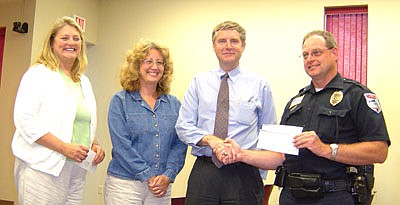 ---
North Branch City Council Monday night unanimously authorized putting Lt. Steve Forner into the position of interim police chief. Lt. Forner is the next in command at the police department and will succeed Jules Zimmer, who retires July 31.

Forner's appointment was the topic of lengthy discussion by council. While his was a unanimous appointment, the process of permanently filling the chief's post was not without debate.

Council member Theresa Furman mentioned that she fully supports promoting from within the city's employee roster. She said it gives staff a reason to stick around and North Branch doesn't become a training ground for employees who go elsewhere for advancement.

A recommendation from the city's administrator to hire an employment consultant to find a new chief was completely rejected. Consensus was that the city is able to fill the position without outside help and costs are not budgeted.

Council member Larry Erickson stated he favors advertising out for all positions. It results in a variety of candidates and expertise, and the city keeps in touch with where the private sector marketplace is at.

Erickson said the city has not actively sought outside applicants for some positions in the past and set an unfortunate precedent.

Erickson added that he'd like to see council review the police chief job description while Forner serves in the interim role. By the time the six month probation/performance review period concludes council should adopt responsibilities and set "specific" expectations for a North Branch chief of police, Erickson maintained.

"This is a chance for us to make any changes," Erickson noted. He said he doesn't like how the city has "come in from the backside" on job expectations previously.

Under Council member Furman's motion Lt. Forner takes over for six months after Zimmer retires, when he will be reviewed in his performance as chief. He receives the usual pay adjustment to compensate him adding 50 percent of the difference between his current wage and the police chief's while he serves as interim chief. Council will set a work session as soon as possible to begin crafting the job description.

In other action Monday night the council--

~ Heard about emergency repairs taking place on County Road 30 between Elm Street and Cedar St. A "sink hole" was created where a clay sanitary sewer main pipe broke.

The company Insituform was hired to make the in-place repairs using a special technology to reline and mend the pipe with cure-in-place PVC. The work will cost about $16,000.

~ Council voted 3-2 on two upcoming bond offerings with Council members Furman and Amy Oehlers opposed. They did not support the bonds as general obligations of the city and had concerns about the reliability of the funding stream to pay-off these bonds (new sewer and water hook-ups and trunk access fees.)

The financial firm Springsted and Assoc. will seek bids for the two bond offerings....$1.5 million for Gateway South Utility project debt and $2.8 for TIF refunding financing. The Tax Increment Financing bonds won't be sold until the Comforts of Home developer pulls a building permit. The permit triggers the development agreement requiring this assisted living project (near Perkins) to foot some of the area's improvements costs.

~ Oehlers submitted a proposal for the council to place a moratorium on downtown construction and large projects. Oehlers said the downtown revitalization group is concerned property owners in the central business district might undertake some large project that isn't in sync with revitalization concepts being created by the committee. Oehlers asked council to set a public hearing date to consider imposing a moratorium on "new construction, re-construction, expansion or new public projects" in the general downtown business area for six months.

Council went 5-0 to approve a hearing date of July 24 to enact a possible moratorium.
---
October
SUN
MON
TUE
WED
THU
FRI
SAT
Today's Events
No calendar events have been scheduled for today.
October
SUN
MON
TUE
WED
THU
FRI
SAT
Today's Events
No calendar events have been scheduled for today.