March 16, 2006 at 8:44 a.m.
NB girls take second place in Section 6AAA
Rogers spoils Vikings' chance to return to state tournament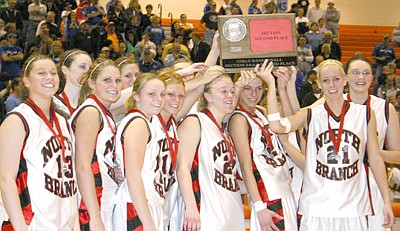 ---
The North Branch Viking girls' basketball team trailed Rogers 14-8 and, despite not shooting well, was still in the game with 7:05 to go in the first half. But, a scoring drought that lasted the rest of the period spelled doom for head coach Dan Schindler's team. Rogers went on to win a spot in the state tournament with a 59-43 win Friday, March 10 in a game played at Osseo High School.

Neither team could find its range early. It wasn't until Rogers hit a three with 15:12 remaining that the scorekeeper had any business. A steal set up an easy bucket for the Royals four seconds later that gave them an early five point advantage.

Gab Olson found Marlayna Graff open for a short one for the first Viking basket at 14:50. NB didn't score again until Tiffany Good hit a 15 footer with 9:47 on the clock. That closed the gap to 7-4 and things looked better to the Viking faithful.

Jill Vanden Heuvel spotted an open Graff for an easy one and Olson hit a pull-up 13 footer over the next two minutes to keep the Vikings within striking distance at 14-8. However, Olson's basket was the last one the Vikings were able to score the rest of the half.

Graff, the Viking center and leading rebounder, picked up her third foul at the 5:10 mark. With her on the bench, the Vikings were unable to find an inside scoring threat. That allowed Rogers to concentrate its defense on the Vikings' perimeter shooters. The strategy was effective and the Royals moved to a 25-8 halftime lead.

The Vikings shot only 15 percent (4 for 27) in the half. "That just won't beat anybody, let alone a good team like Rogers.   After we missed a few shots early it seemed our girls pressed some and probably just tried too hard.   Many of them were pretty good shots, they just didn't fall," said Schindler. "We had more shots than them, but they had eight freethrows to our none and beat us on the boards."

A minute into the second half, Olson hit two freethrows. A Rogers two restored the halftime margin 15 seconds later. Good helped North Branch cut the margin to 27-15 by scoring on a putback of her own miss and then, with 15:25 left, hitting a three.

The teams traded baskets for the next two minutes before a Rogers 5-0 run made the score 37-18. The Vikings applied defensive pressure all over the court. That gave North Branch some punch at the offensive end, but also gave the Royals some easy scoring chances, which they took advantage of for four layups in the next four minutes.

With 6:15 left, Olson scored to make it 48-29. The clock was now Vikings' biggest enemy. So, Schindler's players fouled the Royals early and often over the last minutes in order to extend the game.

The Royals refused to cooperate as they scored their next 11 points from the charity stripe. The only time North Branch strategy bore any real fruit was at the two minute mark. A three by Vanden Heuvel was followed, 11 seconds later, by one from Good. That made the score 53-39.

The Royals hit four more from the freethrow line to put any doubt to rest and earned its first trip to the Target Center.

Scoring Summary

North Branch 8 35 43

Rogers 25 34 59

Kacie Ramberg.................. 3

Tiffany Good .................. 14

Kristen Robatcek.............. 4

Jill Vanden Heuvel............. 4

Marlayna Graff................. 6

10 rebounds

Gabrielle Olson................. 12

7 assists / 5 steals

Total 43

"It would have been easy for this team to just quit at halftime. But, I knew the team would go out and give it everything they had.  That's the way they have played all year.  We actually outscored them 35-34 the second half but it was too late. 

"I am really proud of this group this year.  They have worked very hard and getting 20 wins and getting to the section championship is a great accomplishment. 

"We played a very tough schedule in a very tough conference.  Four teams in our conference were playing in the section championship games on Friday.  (Benilde, Cooper, St. Francis, and us)," Schindler concluded.




---
May
SUN
MON
TUE
WED
THU
FRI
SAT
Today's Events
No calendar events have been scheduled for today.
May
SUN
MON
TUE
WED
THU
FRI
SAT
Today's Events
No calendar events have been scheduled for today.