November 24, 2006 at 8:45 a.m.
Viking CC awards program turns into tribute to "Henry"
Former runners/students return to North Branch in honor of Gilkerson's 33 years of coaching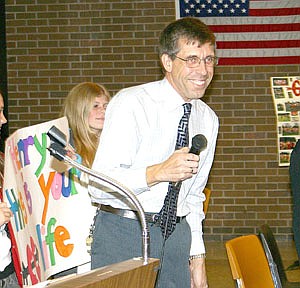 ---
Thursday, November 16 was a special day for long-time North Branch High School teacher and cross country coach Ward Gilkerson.

It was special because it marked his return to school after a month-long recovery from surgery. It was special because the occasion was the annual cross country banquet and awards program. Any time a coach gets the opportunity to brag about his team in front of a captive audience - it's special.

It was special because of the success this year's team enjoyed. Between the 2006 boys' and girls' teams, 12 All-Conference or Honorable Mention runners were in the audience. The boys won the North Suburban Conference title and, despite a series of extended injuries to key runners, the girls were second in the NSC. The boys' team also won the Section 7AA championship and represented North Branch at the State Meet. And, Viking Senior Nick Ramberg was the individual section champion.

This year's banquet was even more special because it was Gilkerson's last. After 34 years of teaching and 33 as the cross country coach, "Henry" is retiring. Gilkerson's worn the tag "Henry" since he arrived at North Branch in 1973 to take his spot in his science classroom and with his track and cross country teams.

Gilkerson, a graduate of Patrick Henry High School in Minneapolis, explained how he became "Henry." "I made the mistake of wearing a windbreaker that had the word Henry on the back at a track meet my first year in North Branch," the coach said.

This night was about to become even more special!

The site of the program, the NBHS Commons Area, was full of athletes, their families, friends and staff. Shortly after 7 p.m., Gilkerson welcomed the crowd and thanked them for coming. After a few minutes, he was interrupted by middle school coach Doniver Ahlm, who replaced Gilkerson at the microphone. Ahlm asked "Henry" to take a seat. He did and sat at a table between displays of the team and individual awards that his teams earned this year.

Ahlm introduced this year's team to hearty applause from the audience. Then came the surprise. Unbeknownst to "Henry," parents, including Linda Heidelberger, Gilkerson's wife Anna, coach Ahlm and others had invited former team members to attend the festivities. Runners, representing nearly every Gilkerson cross country team from the current team, all the way back to the 1974 squad, were introduced one at a time.

Among those introduced were Melanie Dubay, who won conference championships for the Vikings in 1986, '87 and '88 and Joel Johnson who did the same in '87 and '88. When Marlin Olson was introduced, Gilkerson took the mic and shared with the room that the 1975 Viking grad had won the State Meet in his senior year. He won the event on a very challenging course at the University Golf Course in a 15:28. His record time stood for many years.

The last runners introduced were Anna Schmidt and Tammy Benson, who were the first girls to run for NBHS. The two girls ran on the 1974 team, a year before girls cross country was added as a Minnesota State High School League sanctioned sport.

In an eloquent and emotional speech, Gilkerson spoke from the heart about his experience. He thanked his coaching staff, assistants Brian Hasleiet and Ahlm. He commented that he, "Couldn't ask for any better assistants. When I left, I didn't have a care in the world, because I knew these two men would make sure everything would get done the way it was supposed to."

He also expressed appreciation to the parents of his athletes through the years. He pointed out that the parents had always provided support and encouragement.

Gilkerson also thanked his wife, Anna, for her many years of support and tolerance for all the hours he's dedicated to runners and running.

Finally, he shared his feelings for the athletes. According to the coach, the vast majority of his runners have been outstanding students and good citizens. The affection he feels for his runners was apparent.

He became a little choked up, paused for a moment to gather himself, and brought himself back with typical Gilkerson humor. "Enough of this sentimental tripe, let's get on with it," he said, before turning the program back to his assistant coaches.

Awards were distributed, food was eaten and old friendships were renewed. It was a very rewarding evening.

Henry's Legacy

Before this cross country salute began, the "old runners" met, out of Henry's sight, in the NBHS art room. Many had traveled a significant distance (as far as Michigan) to honor their coach. Their respect for and appreciation of "Henry" was obvious. Some shared memories and things learned from the coach with this reporter.

Sean Brown, a 1999 graduate who ran cross country for six years, said he learned to, "Enjoy running" from Gilkerson.

Melissa Dubay-Schnieder, who ran 1991-96 said she learned, "How to be gracious in the chaos of life and never give up. Thank you, Henry, for being a role model and for your character. I appreciate it more every year that goes by."

Brian Mohr, a 1983 grad who ran for four years, said he learned, "The geography of the North Branch area from running all of the roads. Unfortunately, we knew them by names that he (Gilkerson) had made up over the years."

Bob Olson a five-year runner and '84 grad admitted, "Ditching practice and going to Dairy Queen." But, he added that he learned, "Dedication to a sport, a team and a lifestyle."

"Henry was a master at teaching mental toughness and resiliency. His workouts challenged me and pushed me further than I thought I could go. His encouragement and belief in us as athletes allowed us to believe in ourselves," said Rene (Lucey) Gavic who was a Viking runner from 1978-83.

Gilkerson's sense of humor and ability to adjust was referenced by many of his former runners.

Several of the ex-Vikings brought up "Henry's Slime." Thomasina (Hale) Fisk graduated in 2000 and ran cross country for NBHS for four years and said, "I would have to say that one favorite memory was when we would look forward to slime, the cross country word for Gatorade, after running hills by the park in town."

"It was my first year out for the team. I was in eigth grade and my best friend had convinced me to join the team. It wasn't until the third week of practice that I was able to get a new pair of real running shoes. I was very proud of these nice, white shoes and was afraid to get them dirty. Henry must have noticed that I was not focusing on running as I was trying to avoid the mud and puddles. In between intervals, he came over with his muddy shoes and stepped on my shoes and then said, 'There, now you won't worry about it anymore.' I learned right then that I was going to need to toughen up if I was going to survive this sport," Gavic continued.

Mohr said his favorite memory was, "When the boys team taped Debbie Johnson to the seat of the bus, almost missing the race. Ward was most upset about us using all the tape from the medical kit."

Joel Johnson a four-year runner and 1985 grad said, "The day before the region meet, I was playing basketball and sprained my ankle. I came to talk to Henry the next day and it (the ankle) was as big as a softball. Henry asked if I could get my running shoe on."

In more than three decades, Gilkerson has had an influence on thousands of students and athletes. Gavic summarized that influence best when she said, "I have been coaching a high school cross country team for the past 19 years and just about every day something comes up that reminds me of the lessons Henry taught me. Henry inspired me to want to be the best I could be as a runner and he inspired me to become a coach. I am grateful for the influence that he has had on my life."

It was a special night!


---
October
SUN
MON
TUE
WED
THU
FRI
SAT
Today's Events
No calendar events have been scheduled for today.
October
SUN
MON
TUE
WED
THU
FRI
SAT
Today's Events
No calendar events have been scheduled for today.