January 11, 2007 at 7:40 a.m.
Despite slow start, Wildcats get by Hylanders
Balanced scoring is key to victory over conference foe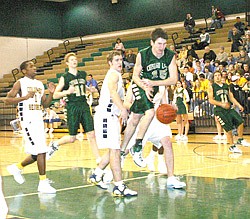 ---
The Wildcat boys' basketball team overcame a lackluster performance to beat the Columbia Heights Hylanders 67-56 Thursday, January 4 at the Chisago Lakes gym.

Josh Figini outscored the Hylanders 5-0 in the first three minutes of the game, but turnovers and missed shots soon turned that advantage into a three-point deficit. Despite two early Chisago Lakes timeouts, the Wildcats were out of sync for a seven minute span that left the home team behind 17-14.

"We needed to step up, play harder and play smarter," said Wildcat head coach Herb Jangor. "We weren't doing that." Jangor's message must have gotten through during his third timeout, taken at the 9:15 mark.

When play resumed, Kyle Hogie's three-point play tied the score at 17. Hogie followed that with a long three-ball with 6:05 left in the half to give the Wildcats a 20-19 lead. After the Hylanders went back ahead 10 seconds later, the 'Cats went on an 8-0 fast-paced run that gave them the lead for good.

Troy Aadland started the scoring when he beat the Heights' defense back for a fast break layup only five seconds after the Hylander re-took the lead. On the next trip down the court, Tyler Bouwens threw an alley-oop from the timeline that found Figini open under the hoop for two. The 'Cats scored twice more, once on a Joe Knafla to Eric Reed pass and once on a Taylor Jones putback, before Heights took a timeout to slow CL down.

By that time, the Wildcats had built a 28-21 lead. As the last four minutes of the half disappeared, five different Wildcats (Mike Corradi, Hogie, Figini, Zach Sill and Jones) scored, as they extended their lead. The first half ended with the home squad leading 38-29.

"We'd go through a five minute stretch where we'd play well and then just kind of daydream for the next five," Jangor added. "For us to be successful, we need to play two halves of good basketball."

The night and day style of ball continued in the second half. "We'd get up 10, 12 or 14 points and then we'd get sloppy and they'd catch up. At one point, I think they got within six, but we always felt we were in control," Jangor continued. "But, we didn't play consistent enough to put them away. We haven't taken the next step that we need to, but at least we haven't fallen back."

Chisago got a lot of production out of its big men. Knafla and Figini shared game honors by scoring 17 each. "Knafla got out and ran well and it led to his best offensive night of the season. Bouwens did a nice job of finding the open man, again and Sill did his usual nice all-around job. He leads us in rebounding and does the little things that help the team," Jangor concluded.

Chisago Lakes 38 29 67

Columbia Heights 29 27 56

Chisago Lakes Scoring

Tyler Bouwens 4

Eric Reed 2

Kyle Hogie 9

Zach Sill 6

Troy Aadland 5

Josh Figini 17

Joe Knafla 17

Brian Jennissen 2

Taylor Jones 2

Scott Leigh 2

Mike Corradi 1

Total 67

The Wildcats host one of the state's best teams when they play Robbinsdale-Cooper Friday January 12 at 7:15. Their next game is at Mahtomedi Tuesday, January 16 at 7:45.


---
October
SUN
MON
TUE
WED
THU
FRI
SAT
Today's Events
No calendar events have been scheduled for today.
October
SUN
MON
TUE
WED
THU
FRI
SAT
Today's Events
No calendar events have been scheduled for today.