November 8, 2007 at 7:17 a.m.
Local conservationists to be honored as area finalists at State Soil and Water Conservation District Convention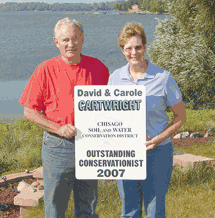 ---
The Minnesota Association of Soil and Water Conservation Districts (MASWCD) has named David and Carole Cartwright, of Rush City, as one of eight area finalists in the 2007 Outstanding Conservationist Award Program. They will be recognized at a Dec. 4 luncheon at MASWCD's 71st annual convention in Rochester. The awards program recognizes farm families, individuals, conservation organizations, and other groups for their accomplishments in implementing conservation practices and improving Minnesota's natural resources.

Of the eight finalists, one will be announced State Outstanding Conservationist of the Year at the Dec. 4 luncheon.

"We're proud of David and Carole for what they've done in conserving our natural resources in our area," said Roland Cleveland, supervisor of the Chisago Soil and Water Conservation District, which nominated the Cartwrights for the award. "It's great to be able to recognize the work they've done locally. They've provided a wonderful example for us by being committed to improving water quality and wildlife habitat on their property. They have restored a series of small wetlands to filter runoff from the road and reforested property. A small area of native grasses and forbs has been seeded along their shoreline area. Over the last four years they have planted over 20,000 trees on their property between a 7.5 acre riparian buffer and 30 acres of reforestation of hardwoods and pines. They have begun thinning and release activities on their 20 acre mixed hardwood forest.

"They do not plan to stop with this, interplanting in the woods and replacing all dead trees is in the management plan for the next few years, as well as expanding the reforestation area by as much as five acres. The Cartwrights have a goal of producing high quality timber trees for their grandchildren to enjoy in the future," he said.

MASWCD, with support from The Farmer magazine, sponsors the Outstanding Conservationist Award Program.

Chisago County has been honored with finalists for the state award four out of the last five years, with a state winner in 2005. Check out our district's website at www.chis agoswcd.org.


---
October
SUN
MON
TUE
WED
THU
FRI
SAT
Today's Events
No calendar events have been scheduled for today.
October
SUN
MON
TUE
WED
THU
FRI
SAT
Today's Events
No calendar events have been scheduled for today.