April 9, 2009 at 3:17 p.m.
Josh Figini leads way in All-Star Series game, he and teammates showered with awards at Chisago Lakes basketball banquet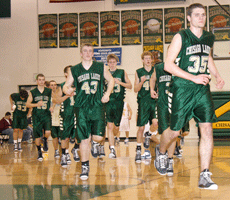 ---
After the boys basketball season wrapped up and the awards were tallied, like he has most of the season, Josh Figini led the way for the Wildcats.

Although Figini was left off the All-Metro team by the Star Tribune, he earned All-State Honorable Mention from the Pioneer Press, All-North Suburban Conference as well as a handful of awards from the team. Among them were the Most Valuable Player. Playmaker of the Year, Chairman of the Boards, Mr. Free Throw and Mr. Academic.

Josh also was selected to play in the Coaches Series All-Star Game this past weekend in St. Cloud.

Figini guided his Maroon squad to a commanding 107-88 win over the Green team, leading the way with a game-high 18 points. The contest featured the Tribune and Pioneer Press' Player of the Year Mike Bruesewitz of Henry Sibley on the Green team, as well as Mr. Basketball finalist Jordair Jett of St. Bernards.

Figini and his teammates still climbed out of a halftime deficit to easily down them.

Not only did Figini play a key role in his team's win, he also won the Slam Dunk Contest between the two teams. According to Twin Cities Hoops, Figini turned his back to the basket at the free throw line, bounced the ball between his legs and off the back board, and turned around and jammed it in.

The dunk propelled him over Dylan Hale of Minneapolis Washburn for the win in his contest. His North Suburban Conference nemesis, Rodney Williams, won the other dunk contest.

The night wasn't all about Figini, however. There were other awards that were doled out at the Chisago Lakes' basketball banquet. Mr. Three-Pointer, won by senior Mike Sokol, Most Improved, which was won by junior Bryan Eichten, Sixth Man Award, won by sophomore Benji Figini, Rookie of the Year, won by sophomore Jordan Hickcox, Gym Rats, won by freshman Per Gulbranson and sophomore Steve Ramberg, and the Big Cat Award, which went to seniors Henry Fitzpatrick and Zak Vrudny.

The younger Figini also earned All-NSC Honorable Mention on the season.

The banquet brings and end to the career of a large group of seniors. Figini, Vrudny, Sokol, Quinn Collins, Jason Showers, Fitzpatrick and Jake Warkel will all bid farewell to the program that they have called home for so long.

It'll be tough to replace that group, but every year is a challenge in the stacked North Suburban Conference.


---
May
SUN
MON
TUE
WED
THU
FRI
SAT
Today's Events
No calendar events have been scheduled for today.
May
SUN
MON
TUE
WED
THU
FRI
SAT
Today's Events
No calendar events have been scheduled for today.