December 3, 2009 at 8:31 a.m.
Taylors Falls city council hears from LS Power executive; new tot lot installed at Maple and West St. heritage preservation hearing Dec. 8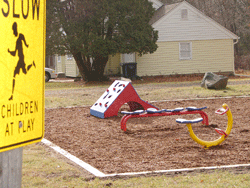 ---
Blake Wheatley, of LS Power Development LLC, updated the Taylors Falls City Council last week on the progress and status of the proposed power plant in Lent Township.

Wheatley spent time on areas of commonly voiced concern, such as groundwater use and local jobs. He stated that the power plant will use treated water from the Chisago Lakes Water Treatment Plant, and that the company was now committed to no industrial groundwater use or discharge. The wastewater treatment plant was described as doing a "superb job" of removing suspended impurities, but several thousand pounds of dissolved minerals and metals would have to be removed in the power plant's purification process. When asked if there would be a future need for more water, Wheatley replied that North Branch was being considered as a possible source. Deputy Mayor Ross Rivard and Council Member Larry Julik-Heine both inquired whether Taylors Falls or St. Croix Falls waste water plants would be considered future water sources, which Wheatley felt was unlikely. He said that construction of the plant would create jobs, with several hundred jobs over a period of a few years. When asked if these jobs would come from Chisago County specifically, he said that there was "no guarantee" as there were only a few companies nation-wide with the capabilities to build a plant of this type, and that they will subcontract out various parts of the project as they see fit.

When asked who the plant will be supplying, and whether the plant would contribute to lower electric rates, Wheatley stated that the plant will feed more power into the grid at peak load times and shut down at other times to meet power needs in Minnesota, Wisconsin, and other Upper Midwest states. Power rates would remain more stable, as the plant is meant to help meet power supply match demand during heavy use times.

In other news:

• The Council approved a $500 merit pay bonus for Larry Philips, City Zoning Administration Coordinator, for exceeding the expectations and requirements of his job.

• There will be a public hearing on December 8 by the Heritage Preservation Commission about two residences. The meeting will be at 7:05 p.m.

• Pumphouse Park has had its tot lot playground equipment installed and the concrete is set.


---
June
SUN
MON
TUE
WED
THU
FRI
SAT
Today's Events
No calendar events have been scheduled for today.
June
SUN
MON
TUE
WED
THU
FRI
SAT
Today's Events
No calendar events have been scheduled for today.