December 17, 2009 at 8:43 a.m.
Kost Dam Bridge is not the only local bridge needing attention, 2009 inspection priorities are being reviewed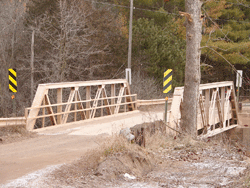 ---
There was a time when the collapse of the 35W span in Minneapolis had everybody thinking about bridge inspections, maintenance, and general safety. The state bridge inspection reports following the 2007 disaster were some of the most-read documents available on the state website.

Today-- citizens and elected officials are still thinking about bridges.

Most notably, the North Branch Hwy. 95 bridge replacement is underway.

The Osceola #243 interstate bridge was studied over several weeks for load impacts and continues to be monitored. Erosion issues at the abutments were identified and are being addressed.

A visible failure of one timber supporting the County Road 36 bridge spanning a wetland within Carlos Avery, resulted in closing that span and the county hiring out emergency repairs. (The deck is only about eight feet above waterline.)

Bridge replacement is one of the county engineer's priorities. Engineer Joe Triplett said he needs to use time over this winter to create a plan for bridge replacements, that also includes funding.

There are several bridges in the county that have needs:

The bridge over the Sunrise River at the Kost Dam County Park was inspected by the state in February 2009.

Sunrise Township and county officials were advised to post for weight limit, which was done. It is a candidate for costly repairs or replacing, with a sufficiency rating of 28.2 percent.

Another bridge posted for weight restrictions, based on the 2009 report, crosses Goose Creek on CSAH 8 in the Rush City area.

This bridge has a sufficiency rating of 43.9 percent, but with an ADT of 590 it carries average daily traffic 30-times that of the Sunrise Township span.

Triplett is working with Sunrise Township on addressing the Kost Dam span.

Sunrise Township residents and ambulance drivers and fire fighters who rely on the bridge, have expressed concerns to township supervisors about potentially losing the span altogether.

A recent meeting, according to resident Paul Henderson, gave residents an opportunity to learn more and express their concerns. Henderson told the Press he hopes that township officials review all ramifications of closing the bridge, and that residents be kept informed and made aware of meetings.

County Engineer Triplett said it is his goal to develop a plan with the township, and a consulting bridge engineer, on how best to proceed on the Kost Dam bridge.

The Chisago County Park Board briefly analyzed retaining the bridge for pedestrians and for fishing, according to Parks Director Laird Mork, but determined that costs to relocate the bridge-- or buy new right of way and move the road-- were too high.

Also in 2009 inspection findings:

~ The County Road 19 bridge east of Stacy (inside of Carlos Avery) has a sufficiency rating of 55.8 percent. It is not posted for weight. Built in 1965 it carries 1,800 average daily traffic (ADT).

~ The County Road 67 bridge over the Sunrise River was built in 1938. It has a sufficiency rating of 65.8 percent. It's not posted for weight, it carries ADT of 100.

~ County Road 30 bridge over Rush Creek carries about 3,600 ADT, and is not posted. The sufficiency rating is 66.2 percent.

According to engineering definitions the sufficiency rating is used to apply for federal bridge rehabilitation funding. The rating is computed on structural conditions, bridge geometry and traffic.

Federal bridge replacement (versus repair) funding is available for sufficiency ratings less than 50 percent.

Bridges that are classified "fracture critical" like the Osceola St. Croix River span, have a steel superstructure with load carrying members arranged in a manner in which if one fails, the span could collapse. Fracture critical does not mean the bridge is unsafe.

Bridges that fall under the National Bridge Inventory inspection must be 20 feet or longer on all public roads. In Minnesota bridges are inspected that are 10 feet or longer.

Most bridges in Chisago County are called "structurally deficient."

This is considered a "reminder" the bridge needs maintenance, load posting, replacement or closure-- but should be kept watch over.

The bridge over I-35 in Stacy is called "functionally obsolete."

This means the span, built in 1967, no longer meets minimum federal requirements for a new bridge. The bridge has a sufficiency rating of 79.0 percent; but it contains narrow lanes, poor approach alignments and sub-standard geometric features. Functionally obsolete ranks it highly for federal funds if they become available.


---
June
SUN
MON
TUE
WED
THU
FRI
SAT
Today's Events
No calendar events have been scheduled for today.
June
SUN
MON
TUE
WED
THU
FRI
SAT
Today's Events
No calendar events have been scheduled for today.