December 23, 2009 at 2:33 p.m.
County uses state grant money to protect the environment and people's health, county sanitarian reports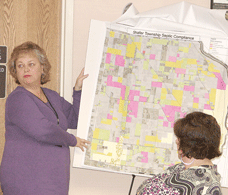 ---
As you assess the year 2009 coming to an end and count your blessings-- feel free to include the county sanitarian and the county's innovative pilot septic program in those reflections. The county sanitarian and environmental services staff in 2009 doggedly identified and addressed malfunctioning septic systems that were spewing, daily, the equivalent of 175,000 gallons of raw sewerage above ground.

Sanitarian Kellie Strobel personally walked miles of acreage in order to locate above ground waste discharge points termed "imminent health threats" and then she worked with property owners to address these. Most were cooperative, she says. One lawsuit is probably pending on a parcel in Shafer Township, but otherwise the owners realized conditions were unacceptable.

Chisago County Environmental Services Dept. was funded to tackle these issues through a state program designed to get either grants or very low cost loans into the hands of people with failing septic systems, septic tanks, drainfields, etc.

County environmental services staff also created a database (map) of systems, and the next phase is improving systems needing special attention. "These are ones with blocked tanks, systems too close to the lake," Strobel explained.

The Chisago Lakes Joint Sewage Treatment Commission plant also cooperated on a new program with the county, where the facility agreed to accept holding tank waste from local pumpers. Strobel said the sewer plant took in 100,000 gallons in 2009 and there's more work being done to expand and improve this fee service.

Of the 32 loans that went out to qualifying septic system owners, Strobel said four have been re-paid in full, creating a revolving fund for future projects. She has three property owners on a waiting list at this time.

The "Legacy" monies the state is dispersing also allow for smaller loans in another program, and there was a grant for cost-sharing project costs that went out to 314 property owners who qualified. Property owners got $400 to help with system problems they did not have to return.

If you have questions about a private septic system, are considering a home purchase or would like information about the system or have other individual septic system concerns feel free to contact Strobel at the Government Center.


---
June
SUN
MON
TUE
WED
THU
FRI
SAT
Today's Events
No calendar events have been scheduled for today.
June
SUN
MON
TUE
WED
THU
FRI
SAT
Today's Events
No calendar events have been scheduled for today.