December 23, 2009 at 2:22 p.m.
Local taxi service starting region wide, flat fee rides for Friday and Saturday night partyers starting this week with New Year's Eve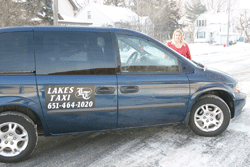 ---
A new fare package offered by Lakes Taxi makes it impossible for you to rely on those old excuses to justify drinking and driving. We've all heard them... 'I don't like partying alone. I can't afford the cab fare. I'll never get a ride at 2 in the morning...'" Lakes Taxi is offering "Lakes Late Night" that will transport customers within a service territory that stretches from Forest Lake-Hugo on the south, to Stacy and Taylors Falls on the north, at a special rate, during certain nights.

It's reliable, affordable and sociable.

Lakes Taxi owner Barbara Sterns said she spoke with liquor establishment owners in west Wisconsin who cooperatively developed what they call the "party barge," a popular option that now runs several vehicles carrying customers who imbibe on the other side of the St. Croix River.

Sterns wasn't financially able to commit to a multi-passenger vehicle purchase at this time, so Lakes Taxi has developed a special $7.50 per person one-way fare that lets riders share a taxi and get home safe. And more importantly, lets others on the road get home safe.

Or, for a $30 per person flat rate you can "bar hop" all night.

According to the Dept. of Public Safety the most DUI arrests take place in the weekends just prior to Christmas to after New Years. The average these days is 193 per day. Normal average daily arrest rate is 100 (2008 numbers).

The Lakes Taxi sober cab program rate is offered Friday and Saturday nights and certain holidays...it begins in just days, December 31, New Year's Eve.

Sterns has operated Lakes Taxi for five years.

All the regular fare services will continue, along with this sober cab. On regular mile-based, minimum fares Lakes Taxi offers 20 percent discounts on runs to the airport and to casinos. It is a 365, 24/7 operation, Sterns said.

Businesses are also being encouraged to support the sober cab program by providing coupons on bar products, for sober cab riders.

Sterns is trying to contact area businesses she thinks might be interested in Lakes Late Night-- but you are welcome to call her to learn more.

If you sponsor a vehicle at any level of donation the lakestaxi.com website will feature a link. For a $1,000 sponsorship the name of your business will be advertised on a Lakes Taxi vehicle for a year.

"We would love to see 2010 have zero deaths in our area due to drunk driving," Sterns states in a letter introducing the service. She told us she sees this as a natural extension of the services she and her drivers provide. Lakes Taxi has run a similar sober cab fare during Forest Lake's Fourth of July celebration and it's well-used. It seemed natural to provide this during other select holidays.

Some of the marketing hurdles Sterns tries to address, in offering this sober fare

~ It runs until 4 a.m.,

~ It covers a region, so riders aren't limited to a bar destination-- you can use it for any ride in the territory from 7 p.m. to 4 a.m. on the Friday-Sat. and holidays it runs.

~ It encourages groups. Sterns is up front that the more people who ride together in one taxi, the more cost-effective the program becomes. She adds, "Normally, when a taxi picks somebody up at closing time if there's somebody else who wants a ride, they have to wait until the first customer is taken care of. This encourages people to ride together at one flat rate."

Also-- Lakes Taxi's mileage-based rates were a turn-off for partyers, who wouldn't ordinarily drop $100 for a ride. (Even though a DUI conviction will cost 10-times that). "Anywhere you drive out here," she said of the Chisago County area, "...it's mileage, it adds up quick."

Lakes Taxi asks that you book your ride ahead of time. (651) 464-1020.

Please call for pick-up (at a bar) an hour to 45 minutes before closing, so drivers can accommodate you and you don't get left out, literally, in the cold.

Don't wait until the last minute. Make a plan.

Sterns is hopeful that the program will become successful enough that a multi-rider mini-bus or transit van can be put into service.


---
May
SUN
MON
TUE
WED
THU
FRI
SAT
Today's Events
No calendar events have been scheduled for today.
May
SUN
MON
TUE
WED
THU
FRI
SAT
Today's Events
No calendar events have been scheduled for today.