February 5, 2009 at 8:30 a.m.
Figini leads Wildcats to a two-game split with SLP and Heights
The six-foot, eight-inch senior also learned that he was nominated for the McDonald's All-American team this week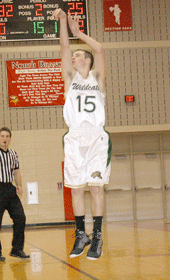 ---
BY JEFF NORTON

Sports editor

Chisago Lakes 68, St. Louis Park 58

Coming into the game, the Wildcats and Orioles were a very similar team. Both squads have one big scorer, a strong second-option, and a bevy of players with talent and potential.

But, neither team had been able to put it all together for a big run.

The first half looked about as even-matched as a game could be. The Wildcats got down early, trailing by as many as nine points in the first part of the game, but they held steady in the face of a deficit. "We held our composure when we were down early," Head Coach Herb Jangor said. "We've been in the position before, this team doesn't get too excited when we are down early."

The 'Cats clawed away at the lead in the late stages of the first half, and made it into a one point lead at 35-34 at halftime.

The Orioles' go-to-guy in the first half was Alex Koch. Koch, who is averaging over 22 points a game on the season, poured in 21 in the first half on seven three-pointers. "He had a good mix of nice shots and our bad defense," Jangor explained. "We didn't close fast enough on him, and we didn't find him quick enough after he made a couple."

The key, for the Wildcats, was shutting down Koch, and they managed that in the second half. The defensive charge on Koch was led by a trio of defenders who all offered something different. Hank Fitzpatrick, Zak Vrudny and Bryan Eichten teamed up to shut Koch down.

While they stood out on the defensive side of the ball, Senior All-Everything Josh Figini was having another spectacular offensive effort. After scoring 10 in the first half, Figini kept up the pressure by netting 16 more points in the second half.

Quinn Collins and Benj Figini also had positive effect in the second half, as Benj scored eight big points and Quinn hit two huge three-pointers.

As the Orioles were widdling away at the lead, they got within four points, but that's when Collins struck for his first three pointer of the game, and it put the 'Cats in front by seven, and SLP never recovered.

Josh Figini ended the game with 26 points, and Benj Figini had 15. Jordan Hickcox had nine points on three big three point shots, and Collins had seven points on the game.

GAME SUMMARY

Chisago Lakes 35 33 68

St. Louis Park 34 24 58

Scoring: Johnson 2, Hickcox 9, Sokol 5, Collins 7, Eichten 2, J. Figini 26, B. Figini 15, Warkel 2.

Columbia Heights 57, Chisago Lakes 48

In the Wildcats' first rematch of the season, they took on the Columbia Heights Hylanders. Heights had throttled Chisago Lakes earlier this year by 14 points. But, they had taken their starters out long before that and actually enjoyed a 35-point lead at one point.

So this was a test to see how far the 'Cats had come since the opening conference game. Although they didn't pass it totally, they made some massive strides since the first meeting.

Behind a big first half from Josh Figini, the Wildcats actually enjoyed a 32-25 lead at halftime. Figini was all over the court, scoring from everywhere en route to 18 first half points.

In the second half, however, it was a different story. For the first four minutes of the half, the Wildcats managed only three points. But, the silver lining on that was their defensive effort. Heights wasn't able to score any points, and with around 14 minutes left, the Wildcats were up 35-25.

Then, Gerald Baptiste and his Heights teammates got hot while the Wildcats floundered.

Baptiste had 13 of his 17 points in the second half, and Kendric Mills scored all eight of his points in the second stanza. For about eight minutes, the Wildcats were like a fish out of water. "We just stopped doing things right," Jangor said. "We just looked lost and looked like we were playing scared and playing not to lose. We should've been playing to win."

As soon as Chisago Lakes awoke from their lull, Heights had taken a lead, and the Wildcats couldn't get shots to fall. "We just have to put it together. Heights wanted to be put away, and we just couldn't do it," said Jangor. "We just need to keep putting ourselves in position to win games."

Although they lost by nine, the boys had a chance coming down the stretch, which is more than they could say about the first meeting. "No one played bad, we just didn't have anyone step up to the next level when we needed it," Jangor mentioned.

Josh Figini ended the contest with 23 points, and Mike Sokol was the second leading scorer at six points.

GAME SUMMARY

Chisago Lakes 32 16 48

Irondale 25 32 57

Scoring: Johnson 5, Sokol 6, Collins 1, Eichten 4, J. Figini 23, Warkel 4, B. Figini 5.

Senior Josh Figini can add another accolade to his mantle after last week.

Figini is averaging 26.4 points per game to go along with 14.1 rebounds per game. He also leads the Wildcats with 3.3 assists per game, 1.8 steals per game and 2.3 blocks.

His mind-numbing stats in the stacked North Suburban Conference have earned him a nomination to be a McDonalds All-American. Each state has a set number of nominees, and Minnesota's number is 20. Figini and Robbinsdale-Cooper's Rodney Williams are the only two representatives out of the 20 in the North Suburban Conference.

"I've just worked as hard as I could during the summer, and worked hard during the school year," Figini said.

The senior said back in about eighth grade is when he realized he may have a bright future in basketball, and after dropping his second sport, soccer, in ninth grade to mainly focus on basketball, his career at Chisago Lakes has taken off.

The general manager of the Wyoming McDonalds was on hand to present the nomination to Figini, as well as his mother Sally, Chisago Lakes Activities Director Perry Aadland, and Head Coach Herb Jangor.

"I'm just really honored to nominated for this award," Figini noted.

The selection process moves swiftly, so Figini should know in a few weeks if he is on the final team.

The McDonald's All-American game has been played since 1977, and it showcases the best high school seniors in the nation. This year's contest falls on April 1, in Miami, FL. The final 20 are selected through a rigorous process that widdles the list from between 1,200-1,500 down to the final 20 selected to play against each other in the game.

Figini isn't looking that far ahead, however. He's gunning towards the Minnesota state tournament with his teammates. "We had moments in all of our games this year," he said. "We can play at a high level and I think we have it in us to get to the state tournament."

-- JEFF NORTON

SPORTS EDITOR
---
May
SUN
MON
TUE
WED
THU
FRI
SAT
Today's Events
No calendar events have been scheduled for today.
May
SUN
MON
TUE
WED
THU
FRI
SAT
Today's Events
No calendar events have been scheduled for today.