January 22, 2009 at 8:51 a.m.
North Branch wins two nail-biters on week
After an overtime thriller against Irondale, Norman beats buzzer against St. Paul Harding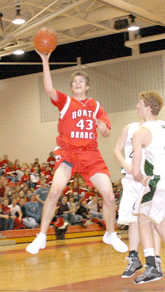 ---
"We had two big wins on the road," said Bill Baumann. "Two weeks ago we probably would not have won either game. It just shows how much we have grown as a team."

The North Branch boys' head coach was talking about Viking wins at Irondale and St. Paul Harding. Tuesday, January 13 NB beat Irondale 71-68 in overtime. Friday, January 16 the Vikings defeated the St. Paul team 59-57.

North Branch 71, Irondale 68

Ryan Norman gave the Vikings a 3-0 lead two minutes into the game. From that point, the NSC foes traded hoops until Norman found backcourt mate Kyle Grote open at the 13:32 mark. Grote's three created the game's second tie. It was 10-10.

The Knights outscored the visitors 13-4 in the next seven minutes. Senior Mike Dahl, who scored on a putback and after an assist by Drew Lundquist, was the only Viking to score during that span.

With Irondale leading 23-14, the Vikings began to come back. Deon Farr hit a two and Norman followed with a three 16 seconds later. At 5:03, they trailed 23-19. Farr's triple and Lundquist's first basket helped the Vikings stay close. With 2:27 left in the half, Irondale led 30-24.

North Branch came back again. Lundquist completed an old-fashioned three-point-play with 2:27. Senior center Aaron Good hit both of his free throws a minute later and completed first half scoring with a hoop from the inside. When the buzzer sounded, the Vikings had a 31-30 lead.

Farr drained a three in the second minute of the new half, giving the Vikings a 34-34 lead. That was the biggest advantage either team could manage in regulation time. Grote's basket with 36 seconds remaining knotted the score for the ninth time. The clock ran out with a pair of 58's on the board.

Dahl and Jake Grandahl each went two-for-two in the first minute of OT to put their team up 62-58. After an Irondale three, Lundquist made a freethrow and Dahl hit both of his charity tosses, North Branch led 65-61. The Vikings were perfect from the line for the rest of the overtime. Lundquist made two and Grandahl hit all four of his to preserve the three-point win.

"Against Irondale, we had worked and talked about some specific items in practice the night before on how to close out the game and the kids executed what we had talked about," Baumann explained. "I think this gave them a little confidence that, if they stay within themselves and execute what they are supposed to do, they can be successful. We are starting to concentrate on the little things and it is starting to pay off. We are blocking out better on the boards. The real key was making our free throws, especially when it counted. We hit 13 out of 14 in the overtime to seal the win." (Grandahl was 6 of 6, Dahl 4 of 4 and Lundquist 3 of 4)

GAME SUMMARY

Irondale 30 - 28 - 10 -- 68

North Branch 31 - 27 - 13 -- 71

SCORING

Lundquist 8, Norman 9, Farr 10, Grote 12, Grandahl 9, Moore 2, Dahl 14, Good 7

North Branch 59, St. Paul Harding 57

Jake Grandahl (6 points) and Drew Lundquist were the only Vikings to score in the first eight minutes of this seesaw battle on the Knights' court. But,their point production was enough to earn the Vikings a 13-13 tie. Aaron Good and Kyle Grote entered the scorebook in the next two minutes. Halfway through the period, the score was tied at 18. Harding opened a five-point lead before the Vikings closed the gap to 27-25 at the half.

Led by the shooting of Mike Dahl(eight points) and Deon Farr(five points), North Branch went on a 13-6 run to start the new half. The Vikings led 38-33 with 10:27 on the clock before SPH mounted a comeback that resulted in the games seventh tie (44-44) with less than seven minutes remaining.

Two minutes later the Knights had built a 50-44 lead before consecutive Farr putbacks cut the deficit to two. With 2:14 left, the Vikes trailed 50-48. But two quick hoops restored their six-point lead. The visitors trailed 54-48 at the 1:58 mark.

NB retook the lead on hoops by Farr, Grote, Lundquist and Grote, again. With 46 clicks left, the Vikings were on top 57-54. A half minute later, a Knight shot from the arc tied the score. Only 13 seconds remained.

As the clock ran down, Lundquist passed to Ryan Norman. Norman scored at the buzzer and the Vikings secured their second win of the week.

"Against Harding, we had a horrible shooting night. But, we were able to stay in the game and win the game because of defense. We had good looks at the basket, but our shots just didn't fall. We had to find other ways to score and we did that through our defense. We were down six with two minutes to go but we were able to take the lead as we came up with three steals. Harding tied the game with 14 seconds left with a long three pointer but we didn't panic and Drew Lundquist found Ryan Norman all alone in the lane and he was able to make the shot as time expired," Baumann commented. "Right now, we are finding ways to win and hopefully we can continue to grow as a team. We have made great strides in two weeks. Now we have to just continue to get better. As we like to say, a lot of success is believing you can do it and we are starting to believe."

GAME SUMMARY

Harding 27 - 30 - 57

North Branch 25 - 34 - 59

SCORING

Lundquist 10, Norman 5, Farr 14, Grote 7, Grandahl 11, Moore 1, Dahl 9, Good 2
---
May
SUN
MON
TUE
WED
THU
FRI
SAT
Today's Events
No calendar events have been scheduled for today.
May
SUN
MON
TUE
WED
THU
FRI
SAT
Today's Events
No calendar events have been scheduled for today.