January 22, 2009 at 8:43 a.m.
With fresh legs, Wildcats stay close to high-octane Red Knights
Tinjum, Young keep Chisago Lakes in contention for an upset until a coldsnap in the closing minutes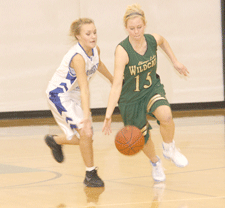 ---
Benilde-St. Margaret's 74, Chisago Lakes 53

In a streaky game that had more ups and downs than pogo stick, the Chisago Lakes girls basketball team dropped another key North Suburban Conference tussle.

On Friday, Jan. 16, the Wildcats came off of a long six-day rest to play the always powerful Benilde-St. Margaret's Red Knights.

The fresh legs for the 'Cats were evident in the first half, as they kept up with the Red Knights' high-octane offense. "We were only down by three at halftime and shot 50 percent from the field. I'll take that anytime out," Head Coach Craig Walker said. "Individually, we were taking and making good shots in the first half."

After BSM opened the second half on a mini six-point outburst, the Wildcats quickly closed the gap back down to three with back-to-back and-one's by Kelsey Ristow and Summer Young. At that point, there was just under 10 minutes left in the game, and the score was 39-36.

It didn't get any better for the Wildcats, though. Over the last nine minutes of the game, BSM out-scored the Wildcats 21-6.

After their hot start to the game, the Wildcats cooled off just as the Red Knights were charging up for their run.

Walker knows their was many reasons for his team's demise against Benilde, but he credits both his team's lack of defense and BSM's focus on defense as keys to turning the game into a blowout. "It was an up and down game, and we couldn't keep up in the second half," he said. "We got tired and had too many defensive lapses in the second half against a good shooting team, and we continue to turn the ball over too much."

In the second half alone, the Red Knights scored 25 points off of Wildcat turnovers.

Whitney Tinjum continued to be a terror for opposing defenses, scoring 24 points and grabbing 11 rebounds. Her scoring average of 21.6 is still among the top 10 in the state. She also flashed some defensive brilliance against the Knights, recording six steals.

Young added 11 points and Shannon Monson had eight points in the losing effort.

"We are making adjustments in our games to get better looks at the basket offensively and were successful," Walker noted. "We just need to build on these small successes and the whole team needs to continue to work our hardest to become better defensively in the second half of the season."

The Wildcats took on local enemy North Branch on Tuesday, and then they take to the road for two games. The first trip is tomorrow night, Friday, Jan. 23 at Robbinsdale Cooper, and then next Tuesday at St. Louis Park. Both games are scheduled to begin at 7:15 p.m.
---
May
SUN
MON
TUE
WED
THU
FRI
SAT
Today's Events
No calendar events have been scheduled for today.
May
SUN
MON
TUE
WED
THU
FRI
SAT
Today's Events
No calendar events have been scheduled for today.