July 9, 2009 at 8:47 a.m.
SCOUTING OUT HIS DREAM JOB
Lindstrom's Mark Wilson is a Minnesota Twins scout who just happened to be the voice behind drafting superstar Joe Mauer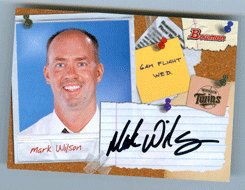 ---
You can bet that on any day of the year, Mark Wilson will be watching a baseball game.

He might be watching a low-quality, grainy video tape of some tall left-handed pitcher with a good curve ball from Nebraska.

He might be sitting front row at a minor league baseball game, watching a slick-fielding, slap-hitting shortstop out in the field, in the dugout and at the plate.

He might even be sitting at a high school game in suburban Minnesota watching the next Joe Mauer catch a few balls behind the plate.

And if anyone knows what the next Joe Mauer looks like in high school, it's Mark Wilson.

Wilson, a Lindstrom resident who graduated from Chisago Lakes High School in 1986, was recently imbued on a Topps baseball card because he scouted and helped discover Minnesota Twins superstar catcher Joe Mauer.

Fast rise to professional scout

Wilson grew up in Lindstrom and was always a fan of baseball. He also had a knack for playing the game at a high level.

Playing the game led him to his current post as the Minnesota Twins' Midwest scout.

Beginning in 1983, Wilson had a strong enough pitching career at Chisago Lakes High School to warrant a stint on the baseball team at the University of Minnesota-Duluth. Soon after departing from UMD, however, Wilson caught on with the Minneapolis Millers, an upstart rebirth of the venerable baseball squad that called Minneapolis home from 1902 to 1960.

As a part of the Great Central League, the rebirth of the Millers didn't last long, and Wilson quickly moved on to the Saskatoon Riot, aprofessional team based in Canada.

Wilson bounced around a few more times, including a stint with the Thunder Bay Whiskey Jacks, before he called it quits for his professional career in 1995.

Not wanting to leave the game that he loved so much and had already given a good chunk of his life to, Wilson befriended a Chicago White Sox scout and began lending a helping hand in 1997.

For two years, Wilson toiled, going to game after game scouting thousands of players for the White Sox employee. But, attending the games helped him establish a connection with some Twins' scouts. In the summer of 1999, Wilson was referred to the Twins as a scout, and they liked what they saw and hired him on as a part-time scout.

After a little more than a year on the job, the full-time scout that was above Wilson was promoted and there was suddenly a full-time scouting position available to Wilson in the Twins' system. He jumped at the opportunity to move up in the organization as the full-time Midwest scout.

"It was just the right time and right place for me," Wilson said. "Someone knew me, and it just worked out."

A scout's life

Wilson counted Minnesota, Iowa, Nebraska, Wisconsin, North Dakota and South Dakota among his territories. He now unofficially counts Canada in his stomping grounds, also.

Being a scout, though, isn't just an easy way to get into free baseball games. It's a tough, demanding schedule that requires a huge amount of self discipline. Wilson noted that the independence that he enjoys in his job is one of the reasons he loves it so much. "It's up to me to gather information on guys in my area," Wilson noted. "I set my own schedule, but you can't miss anyone."

The travel burden alone would be enough to scare most would-be scouts away. Wilson said that in the spring, right before baseball's amateur draft, is when he is the busiest. He attends all or parts of three to four baseball games daily. But, it isn't a typical relaxing day at the ballpark for a scout like Wilson. "Most of the time, I don't even know the score in the game," he said. "If I'm focused on a guy, I'm not just watching him on the field, but in the dugout and how he acts."

Attending three to four games a day means constant time on the road. Wilson estimated that in the spring time, he travels between 2,000 and 4,000 miles each week and piles up between 40,000 and 50,000 miles on the road or in the air between February and October.

"You're constantly changing plans as a scout. You have to plan around weather, around rotations and around schedules.  From Texas to Toronto to Saskatoon, I'm on the road 120 to 150 nights a year," he explained. "Every day, you're taking hundreds of phone calls and writing hundreds of reports."

Wilson said that when scouting players, he goes by his own experience in the game and compares them to other players who have made the major leagues. He has to evaluate their skills and abilities based on their position. For a pitcher, Wilson said he is looking at their size and velocity first, for a hitter, he's checking their bat speed and if they have a power swing or a contact swing. For slick fielders, athleticism is the first key. "Each position has certain identifiers," he said. "But, there is no formula for scouting. It's like going into an art museum, and I just tell the scouting director which painting I personally like."

Getting the hometown kid

While he was attending local games for the White Sox scout, Wilson had already seen a few of Cretin Derham Hall's sensational catcher Joe Mauer's games. With Minnesota as one of his prime territories, he knew he was going to have to keep close tabs on this Minnesota kid who was making national noise in baseball and football.

When the time rolled around for Mauer's senior season, he was a hotly-recruited quarterback in football, and a highly-sought after catcher by most Major League Baseball teams.

Fate worked well for the Twins that year as they drew the first pick in the amateur draft and would have the first shot at drafting the hometown catcher, but there was two roadblocks, both of which Wilson didn't fret much about.

First, Mauer already had a scholarship in hand to play quarterback at Florida State University, but Wilson wasn't worried about where Mauer's allegiance's were. "The first time I went into the family's house, I could tell they were just a baseball clan," he said. "They had about 20 pictures up of their kids, and all but one of them were the kids in baseball uniforms. There was only one of Joe in his football gear. I was confident he would be playing baseball in the near future."

The second hurdle is more of a testament to Wilson's scouting skills. As good as Mauer is now, he wasn't a surefire number one pick in that 2001 draft. A tall, flame-throwing lefthander out of the University of Southern California, Mark Prior, was thought to be the better prospect. Prior was thought to have a much-higher price tag than Mauer, however, and many critics thought that the Twins would take Mauer because of financial constraints, not because of who the better ball player was.

Wilson and the Twins' scout who vouched for Prior argued all the way up until the Twins were on the clock for the first pick. In the end, Mauer ended up in Twins' colors and Prior went number two to the Chicago Cubs.

Most know the story now, Mauer has gone on to win two American League batting titles and has become one of the best catchers in the game today. Prior had two dominant seasons for the Cubs, and then crashed down into obscurity. He is now pitching in the minor leagues for the San Diego Padres, and hasn't had a major league win since August 10, 2006, nearly three years ago.

Wilson said that at the exact moment of the first pick of that draft, he was confident that Mauer was going to be the better baseball player regardless of whatever financial burden came with either player. "Prior was more advanced, but Joe was going to have the bigger impact all around," he said. "It was just going to take longer to see the results."

And Wilson couldn't have been more spot on in his assessment of the two players.

The payoff to his discovery

Hitting the gold mine that was Joe Mauer has morphed the Twins into a perennial contender in the American League and earned Wilson his own baseball card.

The Topps Company decided to recognize scouts around the league and the premier players they scouted. Wilson, along with seven other scouts around the league were included on autographed baseball cards as part of the 230-card 2009 Bowman Baseball set. And they weren't just copied autographs like most cards, Wilson said he had to sit down and sign 2,050 stickers that were then imprinted on to the cards. "The whole process took about five hours, and I had to take a lot of breaks in between," he said of his marathon signing session.

Although Wilson's John Hancock isn't in as high of demand as stars like Albert Pujols and Derek Jeter, Wilson said that the scout cards lean more towards the rare side, as the 2,050 cards that they signed are the only ones in circulation. Most of the big name players have a huge circulation of cards in the set.

Wilson said it is thrilling for him to be featured on a baseball card alongside some of the stars of baseball. "For the most part, we're under the radar as scouts, but it's a pretty big honor to be on this card," he said. "It's well-known throughout the scouts and it's a privilege."

Besides Mauer, the other major league players who paid off for scouts by earning them a spot in the card collection were New York Yankees pitcher C.C. Sabathia (Cleveland scout Paul Cogan), Los Angeles Dodgers catcher Russell Martin (Houston scout Clarence Jones), Oakland Athletics outfielder Matt Holliday (Colorado scout Pat Daugherty), Milwaukee Brewers outfielder Ryan Braun (Milwaukee scout Larry Pardo), Tampa Bay Rays third baseman Evan Longoria (Tampa Bay scout Fred Repke), Philadelphia Phillies second baseman Chase Utley (Philadelphia scout Matt Lundin) and Phillies pitcher Cole Hamels (Philadelphia scout Darrell Conner)

Future for Wilson and his players

Mauer might be the highest profile major leaguer that Wilson scouted, but he isn't the only one. Wilson also was the voice behind picking Stillwater's Glen Perkins in the first round of the 2004 MLB draft, who has gone 16-8 with a 4.20 earned run average over the past two seasons for the Twins.

Another Wilson product, Brian Duensing, also made his major league debut this year early in the season coming out of the Twins bullpen. After one game, he was sent back down to the minor leagues, but just last week, Duensing was recalled to the major leagues and pitched four impressive innings during the Twins' 11-9, 16 inning loss to the Tigers on Friday.

As for Wilson's future with the Twins, he said that he is thrilled with his current position, and if he still had the same job in 50 years, he'd still be happy with it. "I haven't thought about moving up in the organization. When and if the opportunity is right, though, I'd consider it," he said. "For now, I like the challenge of my job, though. I like digging for players and grinding it out. Each guy has special meaning to me, whether they are in the majors or we've traded them for other pieces."

One thing that Wilson does wish is that his father was still here to see all that he has accomplished. "I wish my dad could've seen this," Wilson said. "He was always proud of everyone in my family and he was a big baseball fan. It would've been cool."

Wilson's father passed away over two years ago, but he still plays a big part in Wilson's life as he tries to make him proud.


---
May
SUN
MON
TUE
WED
THU
FRI
SAT
Today's Events
No calendar events have been scheduled for today.
May
SUN
MON
TUE
WED
THU
FRI
SAT
Today's Events
No calendar events have been scheduled for today.