March 26, 2009 at 8:47 a.m.
No Figini on All-Metro Team? No credibility
The Star Tribune announced their 1st, 2nd and 3rd All-Metro teams, and it's missing a familiar face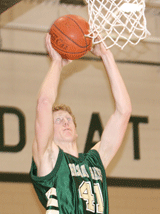 ---
What a joke.

Earlier this week, the Star Tribune, Minnesota's largest newspaper, released their All-Metro basketball teams.

On the teams are some of the familiar faces of Minnesota basketball. Royce White. Rodney Williams. Sam Dower. Mike Bruesewitz. It's basically a who's who of Minnesota high school basketball.

But, a certain red-headed senior from Chisago Lakes was inexplicably overlooked for not just the first team, but all three teams. Josh Figini deserved a spot somewhere on one of those teams.

And I already know the arguments coming my way as to why he wasn't on the teams.

'Well the team didn't do very well, so it's hard to consider him.'

Fair enough. Then why is Mike Muscala of Roseville and Damarius Cruz of Robbinsdale Armstrong on the third team? Muscala's Raiders were 12-16 on the season and Cruz's Falcons were 13-15. Those records are not far off of the 10-17 record the Wildcats finished with in a stacked North Suburban Conference.

'Well he didn't face all the top teams in the metro like Hopkins and Henry Sibley did.'

That argument holds no water when you figure that out of the 15 players selected for the three teams, four of them are from the North Suburban Conference. Cooper's Williams, along with Columbia Heights' Jacob Thomas, Spring Lake Park's Shaun Jensen and Fridley's Isaiah Thomas all played opposite Figini twice this year.

In eight out of the Wildcats' 27 games, or roughly one-third, they played teams that boasted All-State players. Add into that Benilde-St. Margaret's, who was a better overall team than Fridley and Columbia Heights, and the competition Figini faced was no joke.

Outside of the Classic Suburban and Northwest Suburban, there may not be a better basketball conference, top-to-bottom, than the North Suburban Conference. And Figini went through those rigors night-in and night-out.

In fact, only one other conference had more than two All-State performers, and that was the Classic Lake, which features the nationally-ranked Hopkins Royals and their four All-Staters.

'Well he wasn't close enough to the metro to gain consideration. There wasn't enough attention up here.'

Figini is among the 15 finalists for the Mr. Basketball Award, which is given to the top basketball senior in the state of Minnesota. Only five players who are Mr. Basketball finalists weren't on the Metro All-State team. Figini, Mike Felt of Redwood Valley, Tydan Storrusten of Pelican Rapids, Nate Wolters of St. Cloud Tech and Chris Halvorsen of Henry Sibley.

In the first week of the basketball season, the Tribune even named Figini its Athlete of the Week after he carried the Wildcats over the Princeton Tigers in a double-overtime affair. His 46-point, 24-rebound game single-handedly gave the 'Cats their first win on the season.

There was attention up here. People knew of Figini, yet they still disregarded him for the All-Metro team.

'These guys are all going to Division 1A schools, though.'

Williams and Royce White from the first team are going to the University of Minnesota. Raymond Cowles of Hopkins will be suiting up for Santa Clara next year. Osseo's Sam Dower goes west for Gonzaga, and Bruesewitz will be playing for the Wisconsin Badgers next year.

In case you're a basketball fan and missed the first round of March Madness last week, the Cornell Big Red were in the dance with the third-seeded Missouri Tigers. They may have lost in the first round, but they are a perennial favorite in the Ivy League every year, which means a berth in the field of 64, something schools like Santa Clara and Minnesota can't exactly brag about.

And guess who's signed on to play for the Cornell Big Red next year?

Yep, Josh Figini.

'Some of these guys have better potential as college or NBA players, though.'

That's all fine and dandy. Who knows, maybe Williams is the next Vince Carter. Maybe White is the next Tayshaun Prince. Maybe one of them is the second coming of Michael Jordan.

It's a moot point how good of a college ball player or professional ball player any of these kids might be. These awards and accolades are for their performance in high school, not their potential. And if any of these kids' performance screams All-State, it's Figini's. All he did was score 24.7 points per game, more than any of the other guys on the team, grab 13.8 rebounds per game, including 5.1 offensive boards, again, tops among the All-State performers ahead of him, and oh, by the way, he also added 3.4 assists per game, two blocks and two steals.

He didn't just hoist up unneccasary shots, either. He hit field goals at a 54 percent rate, and drained threes at a 30 percent clip. He also hit 77 percent of the 231 free throws he attempted.

Need a guy to bring the ball up court? Figini did it a bunch for the Wildcats.

Need a big body down low to pound away at the undersized opposition? Go with Figini.

Need a player who is willing to do anything for his team to win? Check one for Figini.

The only thing the kid didn't do was strap on a red cape while he was doing this all.

One thing that's surprising about Figini's game too was that he did all of his scoring and rebounding and playmaking despite being double- and triple-teamed nightly. Most times, when Figini touched the ball, he either had to score quick or dish the ball, because the rest of opposition was quickly collapsing down on him. He had to fight through hacks, holds and elbows from numerous players at once, and he still put up numbers like the other team's water boy was covering him.

The only guy to score more and rebound more than him was Kevin Noreen of Minnesota Transitions, which played a patty cake schedule, lighting up tiny teams for 130 points a night. He's a guy you can make the argument that his competition was lacking, not Figini.

Heck, Figini even did all this with a 4.0 grade point average and a number-one ranking in his senior academic class.

This list doesn't indicate the best players in the state. If it did, Figini would be on it somewhere. What it does indicate is a metro bias. It shows kids playing in these outer-suburbs the wrong message.

People already complain about Hopkins recruiting kids to play basketball and Apple Valley doing the same in wrestling. Well, the schools don't need to do the recruiting when the Metro newspapers are doing it for them.

It's a shame too, because Figini is a heck of a high school basketball player and a heck of a person. I hope he goes to Cornell and proves people wrong. I hope the Big Red win the Ivy League all four years he's there. I hope that somewhere down the road, Figini will be talked about as one of the best players out of the Minnesota basketball Class of 2009.

He deserves it.

You are invited to send interesting, unusual and/or humorous items that could possibly be used in this space. If you choose to do so, please send it to [email protected].

If you prefer, you may send it to

Chisago County Press

Attn: Jeff

12631 Lake Blvd.

Lindstrom, MN 55045

or, you may bring it in to the office.






---
May
SUN
MON
TUE
WED
THU
FRI
SAT
Today's Events
No calendar events have been scheduled for today.
May
SUN
MON
TUE
WED
THU
FRI
SAT
Today's Events
No calendar events have been scheduled for today.