May 7, 2009 at 8:10 a.m.
CL takes back the Chisago County crown in a two-game thrashing
The Wildcats dominate the Vikings in softball by a combined score of 23-2 in a doubleheader last week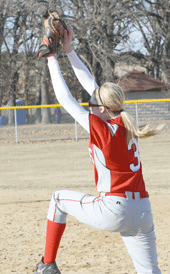 ---
Chisago Lakes 12, North Branch 2

In the first game of a doubleheader, the Wildcat softball team broke open a scoreless tie with a six run third inning on their way to a 12-2 win over the Vikings Wednesday, April 29 at North Branch.

In the third inning, the first three Wildcat batters - Mackenzie Turk, Jill Sontag and Shannon Monson - walked. Two scored on passed balls, and the third run scored on Amanda Houle's sacrifice fly. Two outs later, Lisa Schommer and Ashley Oehme singled. Danielle Tossey tripled to left to drive in two, and later scored on a passed ball to make it 6-0. The Wildcats added two more runs in the fifth and four in the seventh, highlighted by Oehme's RBI single and Mackenzie Turk's two-run single. In the sixth inning, the Vikings finally were able to put some runs on the board. With one out, Kayla Merschdorf reached on an error, and moved to second on a single by Quiana Quam. Chelsea Tollberg sacrificed both runners over, putting runners on second and third with two outs. Ashley King then hit a ball that the CL defense mishandled, and both Merschdorf and Quam came home to score.

Oehme had three hits and scored three runs for the Wildcats. Tossey also scored three runs. Turk had two hits, and courtesy runner Taylor Russell scored two runs. Rachel Nelson allowed eight hits and struck out five to raise her season record to 7-2.

"Their pitching held us in check for awhile in game one, but some walks and a few hits opened the floodgates for us," Chisago Lakes Head Coach Herb Jangor said. "We only had seven hits and several of our runs came as the result of their errors. It wasn't a solid all-around game for us, but it was nice to get the win."

Kelci Lofboom took the loss for the Vikings, going all seven innings, giving up 12 runs on seven hits and seven walks. She also managed to strikeout seven Wildcat batters.

For the game, North Branch had seven hits, with Tiffany Anderson, Lofboom and Quam eaching belting out two hits, and Chelsey Emery getting one.



Chisago Lakes 11, North Branch 0

In game two of the double header, Wildcat Lisa Schommer hit a two run homer to left in the first inning to get things started. The Wildcats scored nine more runs in the first three innings, shutting out the Vikings 11-0 in a game shortened to five innings by the 10-run rule. Rachel Nelson allowed three hits and struck out two, picking up a shutout and raising her season record to 8-2.

After Schommer's home run in the first, the Wildcats scored two more runs, helped out by three Viking errors. The Wildcats earned their four runs in the second inning. With two outs, Amanda Houle singled, stole second and scored on Nelson's double down the right field line. Schommer walked. Courtesy runner Shannon Monson scored on Ashley Oehme's single. Danielle Tossey walked, and both runners scored on Mallory Schneider's double to the wall in center. In the third, Taylor Russell walked, Houle singled and Nelson walked to load the bases with no outs. Russell scored on Schommer's groundout and the other two runners scored on Oehme's single to left to make the score 11-0.

Houle led the Wildcats with three hits and three runs scored. Schommer and Oehme had two hits a price, and Schommer, Oehme and Monson each scored two runs.

For the Vikings, only Alley Carlson had Rachel Nelson's number. Nelson allowed only four hits in the entire game, and three of them were recorded by Carlson. Anderson knocked out the other single.

Anderson struggled on the mound in her start. She pitched two innings, and gave up eight runs on six hits and four walks. Emily Trunk came in to relieve her and pitched well to end the game. She finished the last three innings, giving up three runs on three hits and five walks.

"It was nice to get two wins against our archrival," said Wildcat head coach Herb Jangor. "In game two, Schommer's home run got us off to a great start. We played a lot better, getting eleven hits and only making one error. That's how we need to play all the time. And once again, Rachel pitched well for us."

On the other side of the fence, Trunk knew why his team struggled. "Our pitchers had a tough time finding the strike zone consistently," he said, noting Vikings pitchers walked 16 batters and hit two more in the doubleheader. "We need to improve in that area for us to become more competitive."

Besides their faults on the mound, Trunk said he though the Vikes did well at the plate, making good contact against Nelson over the two games. "We also played better defensively then we did on earlier in the week against Irondale," he said.


---
May
SUN
MON
TUE
WED
THU
FRI
SAT
Today's Events
No calendar events have been scheduled for today.
May
SUN
MON
TUE
WED
THU
FRI
SAT
Today's Events
No calendar events have been scheduled for today.