November 25, 2009 at 1:42 p.m.
Riding big solo performances, CL finishes 13th at state
Alex Thomsen, Brogan Lee and Lindsay Carlson all earned podium finishes at the state meet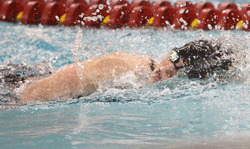 ---
With the lights shining in the humid University of Minnesota Aquatic Center, five Chisago Lakes girls blocked out any nerves or uneasiness they may have had and harnessed their confidence for some spectacular performances over a three-day period last weekend.

It was the divers turn on the first day of the tournament, and Alex Thomsen and Lindsay Carlson both have had experience at the state meet before -- Carlson as an eighth grader and Thomsen last year as a junior.

Both girls really nailed their first set of dives. With five dives in their opening round, Thomsen scored a 165.60, which left her in fourth place, less than 10 points behind Sauk Rapids-Rice's Chloe Timm, who was in first place.

Carlson also had a solid opening set of dives, scoring a 152.45, which put her in early medal contention in eighth place.

In the semi-finals, Carlson stepped it up a notch and scored nearly 100 points in her three dives. The performance vaulted her from eighth to fifth place, but that also came at the expense of her teammate.

Thomsen, who was in fourth entering the semis, struggled in her second round of dives, only scoring just above 65 points. The trio of dives caused her to tumble from fourth to 12th, but it wasn't the end of Thomsen, as the top 16 girls moved on to the finals.

Heading into the finals, Carlson was in prime position to earn a spot on the medal stand, while Thomsen would need a few girls to falter in front of her, plus a near flawless dive routine.

Carlson held firm with her scores, but two girls, Alissa Lager from St. Peter and Bailee Meyer from East Ridge were able to earn just a tad more points than Carlson and bump her down in the standings to sixth place.

Thomsen, however, made a huge stride in the last round of three dives. She was only out-scored by four girls in the final round, and all four of them were already near the top of the leaderboard. The dives propelled Thomsen from 12th place to seventh, the same spot she finished last year.

The back-to-back finish for Carlson and Thomsen was very beneficial to the Wildcats team score. Carlson earned 13 points for her effort and Thomsen earned 12 for a total of 25 diving points. East Ridge was the only other team to outscore the Wildcats in diving. The Raptor divers are comprised mostly of girls who dove for Class AA Woodbury last year. In fact, Jenna Karrow, who finished second this year in Class A, finished 17th last year in Class AA for Woodbury.

In swimming, all three girls earned some team points for the Wildcats, and that was huge in getting them up to 13th place.

Brogan Lee was the highlight of the meet for the Wildcats. Even though with her seed times it was expected, she still became the first double medalist in Chisago Lakes girls swimming and diving history.

Lee got started first with the 200-yard freestyle preliminaries. Although it's her weaker event, she was seeded in the top eight going into the meet, and she stayed in there and finished the race in 1:58.55 in seventh place.

That finish almost assured Lee to be the first double medalist in school history. In swimming, as long as competitors qualify in the top eight, they can't fall out of it in the finals, no matter how fast anyone swims in the consolation finals.

Nearly an hour later, Lee dove back into the pool to race in her best event: the 500-yard freestyle. The junior came into the event with the second seed and a time of 5:12. Although the girl in front of her, Marisa Wood, only swam a 5:09 going in, she was expected to take it up a notch in the finals and swim a sub-five minute time.

Lee swam a personal best in the preliminaries, finished the race in 5:10.39, which was well off of Wood's 4:56.20, which was a new Class A record, but Lee's time was well ahead of Alissa Tinklenberg of Willmar, who swam the race in 5:14, and Ashley Drazkowski of Monticello, who finished fourth in 5:16.97. With the second place finish, Lee had already etched her name in Chisago Lakes record books as the first double medalist.

Brogan's younger sister Thomi Lee also had a heck of a meet. She was one of the youngest competitors in the 500-yard freestyle as an eighth grader, but she still managed an ninth place finish in the prelims, just narrowly missing the finals by less than two seconds. Although the finish secured her spot in the consolation finals the next day where she could earn as many as nine points for the Wildcats.

Junior Heidi Willhite was the other swimmer that went to the state meet for the 'Cats, and she went in two events. Her first of the day was the 50-yard freestyle. Her goal was to break the school record, which is in the 24 second range, and although she wasn't able to accomplish that, she did sneak into the consolation finals. After she got out of the pool in an early heat, Willhite had to nervously wait out the rest of the heats to see if she would qualify for the second day of swimming. After the last times were posted of the last heat, Willhite's nervous look turned into one of joy when she realized she came in 15th place in the event and would be swimming in the consolation finals on Saturday.

As narrowly as she sneaked into the consolation finals in her first event of the day, she just as narrowly missed out in her second. Coming in with a 55.38 second seed, she knew she would have to trim some time off to earn a spot in the consolation finals. She did just that, lopping off .03 seconds and again, she had to sit and hope that things would fall in place for her to swim in two events the next day. Things didn't quite work out when Willhite was left in 17th place, .06 seconds out of 16th. She couldn't dwell long, however, as she had to starting mentally preparing for her 50-yard freestyle swim the next day.

With all three girls again swimming on Saturday, it was a busy day for Wildcat fans. Lee was the first girl to earn a spot on the prestigious eight-leveled podium at the state meet. In the 200-yard freestyle, Lee struggled compared to her prelim times, but still kicked out enough effort to finish in seventh place, earning the Wildcats 12 points. Wood, who is from Sartell-St. Stephen and is only a freshman, won the event with a 1:50.88, a new Class A record.

Willhite was the next 'Cat to swim on Saturday. Although she didn't have a chance to move onto the podium, she still took full advantage of her opportunity to score points for the team. Althought she was seeded 15th, Willhite swam almost an identical time, finishing in 25.17 seconds, while girls around her struggled on their second straight day of intense swimming. The junior was able to move up to 12th place, earning the 'Cats five points in their team total.

Thomi Lee was next on the docket with her consolation finals swim in the 500-yard freestyle. The eighth-grader again shaved more time off of her personal best, swimming the race in 5:20.16, more than a second faster than her previous personal best from the day before. However, two girls who finished just behind her the day before chopped off seven and five seconds, respectively, to overtake her and push her down to 11th. The finish was still a success, though, as Thomi is only in eighth grade and has four years left to keep improving her times.

The big race of the day came minutes later when Brogan Lee was aiming to lower her time even more and attempt to creep up on Wood and her record time. Lee accomplished that, pushing her time down to 5:08.72 in the finals, but an odd thing happened along the way. Drazkowski, who has been 12 seconds behind Lee at sections and six seconds behind her in the prelims, found another gear and was able to finish in second place with a time of 5:07.31. Wood won the event with a 4:58.92.
---
May
SUN
MON
TUE
WED
THU
FRI
SAT
Today's Events
No calendar events have been scheduled for today.
May
SUN
MON
TUE
WED
THU
FRI
SAT
Today's Events
No calendar events have been scheduled for today.