October 15, 2009 at 8:53 a.m.
Section 7A Soccer Previews: 'Cats and Vikings get tough draws
NB secures first round bye, Wildcats not far behind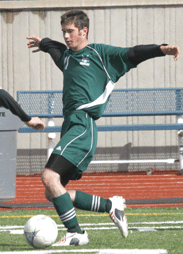 ---
Both the Vikings and the Wildcats received well-deserved high seeds in this year's Section 7A boys' soccer playoffs. The third-seeded Vikings received a bye in the first round, and the fourth-seeded Wildcats hosted thirteenth-seeded North Lakes Academy last night at Chisago Lakes.

Senior forward Brian Grand, the leading scorer in the state, leads the charge for the Vikings. Grand's combination of blazing speed, excellent ball skills and a blistering shot make him tough for any opponent to handle. Senior Austin Holmes may be the most experienced goalkeeper in the state, as he has been the Vikings' starter since he was in eighth grade. And Holmes is not measured only in years. Having played for some weak teams during his first few years as the Vikings' keeper, Holmes had likely faced more shots in his career than any other keeper in the state. Tony Ceroll, a junior forward, helps the Vikings with skill and toughness up front.

With a group of seniors who had been playing together for a long time, the Wildcats were expected to have a good season. Then, junior exchange student and center midfielder David Rau dropped into their midst and the prospect for a great season was now a reality. Rau's ability to settle a game down and help his team control the ball has helped other Wildcat players shine in their roles. And the Wildcats have really gelled as a team since coach Mark Leigh dealt with a distracting internal team issue and then moved senior Dominic Novak back to sweeper. A solid senior-laden defense and the solid scoring combo of Rau and senior forward Cameron Bouwens make the Wildcats a solid team across the board. Wildcat depth could be an issue, as injuries and red card suspensions leave the Wildcats with very few experienced substitutes, especially on defense.

The Wildcats very likely beat North Lakes Academy last night. North Lakes is in its first varsity season and only has 12 players, nine of whom are freshman or younger. On Saturday, October 17, the Wildcats will host the winner of today's game between fifth-seeded Cloquet-Esko-Carlton (CEC) and twelfth-seeded Eveleth-Gilbert. There aren't a lot of direct comparisons that can be made between the Wildcats and likely winner CEC (8-7-1 overall, 6-5-1 section). The teams shared just two common opponents this season. The Wildcats were 2-0 against those opponents, while CEC was 1-1. Cloquet played just four games outside of the section. Overall, the Wildcats played a tougher schedule, which should give them the edge over CEC.

This Saturday, the Vikings (13-4-1 overall, 3-0-0 section) will host the winner of the battle between sixth-seeded Duluth Central and eleventh-seeded Duluth Denfeld. The Vikings beat Denfeld 3-0 about four weeks ago. Duluth East (7-8-0 overall, 5-7-0 section) beat Denfeld twice this season and both Central and North Branch beat Chisago Lakes. The Vikings beat Hibbing, but Central lost to Hibbing. It looks like a solid effort from the Vikings should get them past Central.

Top seeded Hermantown and second-seeded Duluth Marshall are both good soccer teams and will likely host semifinal games next Tuesday, October 20 at 4 p.m. But if the Vikings and Wildcats make it to the semifinals, both have a chance to advance to the section championship game next Thursday, October 22 at 7 pm at Public Schools Stadium in Duluth.

Marshall played some tough non-section teams early in the season, but lately has been beating up on some of the weaker northern teams in the section. The Vikings 2-1 win over Benilde-St. Margaret's last Friday and their thrashing of Big Lake 7-0 the next day give them momentum could last through the whole tournament.

Hermantown's only loss this season was to Marshall. But the Wildcats' tough late season schedule has prepared the Wildcats well for the section tournament. They've picked the right time to be playing their best soccer of the year. Hopefully, it will be enough to propel them to a great finish this season.


---
June
SUN
MON
TUE
WED
THU
FRI
SAT
Today's Events
No calendar events have been scheduled for today.
June
SUN
MON
TUE
WED
THU
FRI
SAT
Today's Events
No calendar events have been scheduled for today.