October 22, 2009 at 8:49 a.m.
Penalty kick dooms 'Cats in low-scoring section affair
Handball call two minutes into the game leads to the only goal scored by either team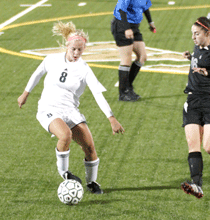 ---
Chisago Lakes 6, Becker 0

Cassie Trandahl and Rachel Diers scored two goals apiece to lead the fifth-seeded Wildcat girls soccer team to 6-0 win against twelfth-seeded Becker in the opening round of the Section 7A playoffs last Tuesday, October 14 at Chisago Lakes. Marissa Alliegro and Annie Stenson each had a goal to round out the scoring for the Wildcats.

Hermantown 1, Chisago Lakes 0

Little did anyone know that a Hermantown penalty kick two minutes into the game would be the only scoring in last week's Section 7A quarterfinal clash between the fifth-seeded Wildcats and the fourth-seeded Hermantown Hawks. The Wildcats, who beat the Hawks 1-0 earlier this season, played a solid game but came out on the wrong end of a 1-0 score last Saturday, October 17 at Hermantown. Te loss knocked the Wildcats out of the section playoffs.

The referee called a handball in the box that led to the penalty kick. According to Wildcat observer Tom Lawlor "Even though our fans grumbled about it, it was a good call by the referee. After the goal, everybody's feeling was 'okay, let's get through this and tie it up.' But we never did. Both teams had their chances in what turned out to be a very physical game. We had some good scoring opportunities. One shot went just over the crossbar and hit the football crossbar. A couple of shots went just wide. Ashley Gibson had some nice, long direct kicks from way out that the tall Hermantown goalkeeper was able to handle fairly easily."

Lawlor continued. "It was chilly up n Hermantown, but that didn't stop the girls from playing a spirited game and giving a good accounting of themselves. The field was in terrible shape, but we shouldn't have been playing on it in the first place. We had a 4-0 record against section teams this year and we beat Hermantown earlier this season. When two teams are as closely matched as the Wildcats and the Hawks, a head to head matchup should certainly be the deciding factor when the section coaches are which of the two teams should have the higher seed. Someone from Chisago needed to point that out to all of the northern coaches in the section before they each ranked the teams for seeding at season's end, but I'm not sure if anybody from Chisago Lakes said anything."

"In the end," said Lawlor, "the girls were just, as the English like to say, unlucky."


---
June
SUN
MON
TUE
WED
THU
FRI
SAT
Today's Events
No calendar events have been scheduled for today.
June
SUN
MON
TUE
WED
THU
FRI
SAT
Today's Events
No calendar events have been scheduled for today.