April 1, 2010 at 8:45 a.m.
Lindstrom hockey rink crowded out by cemetery, city staff and hockey association working on relocating skating complex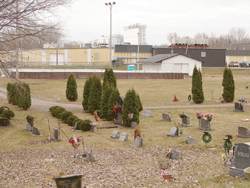 ---
You'd think in Minnesota, of all places, that there'd be no shortage of spots where an ice rink could be located. But, for the youth hockey group in Chisago Lakes--which needs to vacate its rink in Lindstrom-- spokespeople say nailing down a new location has been elusive.

The Lindstrom Council recently voted to extend by one more year, a deadline previously given to the association, to relocate. This extra time was good news for the skaters, but has made cemetery committee members anxious.

Lindstrom's Fairview Cemetery is out-growing its existing improved area and the cemetery land extends underneath where the hockey rinks have been maintained for years.

Brian Hill and Mike Klun, officers for the hockey association, told the Lindstrom city council they had hoped for more of a "staged" move...something over a number of years.

Klun, president-elect of the hockey group in Lindstrom said, "We will have nowhere to go to skate" if they are rushed to vacate.

On the other side of this issue; a citizens' committee has been working many years to improve the appearance, and help keep things ship-shape at the city-owned Fairview Cemetery. Before the group became active the Fairview Cemetery was frankly unattractive and overgrown. The committee saw to it the stately black fence was installed. Beautification projects were done. Underbrush and scrub trees were removed allowing visitors to see the lake.

Founding cemetery committee member Chris Bjorklund told the city council recently that many members of the cemetery committee are gone, adding as one of the few surviving volunteers, she wants to be sure the cemetery plan stays on track, and that this section of the cemetery gets done.

Clearly impatient with progress on relocating the skaters, she told council, "At this rate I'll be in a plot myself before we get done."

Bjorklund says there's about 25 burials annually. Space is nearly sold out and the committee doesn't want people to be turned-off when they are asked to use their imagination for the newest section of Fairview.

The city needs to grade the land where the rink is located, install water lines, layout the cemetery grid and create a map, and seed or lay sod, she explained.

Lindstrom city administrator John Olinger is working on the issues with the skaters, trying to get the association to move to another city-owned site, and the cemetery group is also being kept in the loop and hopefully everybody can be accommodated.


---
May
SUN
MON
TUE
WED
THU
FRI
SAT
Today's Events
No calendar events have been scheduled for today.
May
SUN
MON
TUE
WED
THU
FRI
SAT
Today's Events
No calendar events have been scheduled for today.