April 22, 2010 at 8:50 a.m.
Robotics team returns from International competition with strong showing and amazing experience under their belt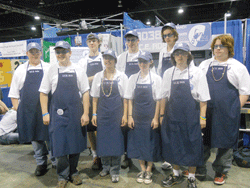 ---
North Branch-Chisago Lakes ICE Robotics Team 3038 travelled to Atlanta, Georgia last week to participate in the FIRST World Robotics Championships. Teams from the continental US, Hawaii, Canada, Mexico, Brazil, Israel, and Australia were there. Each team competed in 10 qualification rounds in four 86 team divisions. The top eight teams in each division then drafted teams to form three team alliances for the division finals. ICE competed in the Newton Division.

During division play, teams are randomly put into three team alliances to compete and earn seeding points. Seeding points are earned in two ways. The winning alliance earns 5 points for the win plus the number of points scored by their alliance and two times the number of points scored by the losing alliance. The losing alliance earns the total number of points scored in the match. The system is set up so that, depending on the score, it is possible to score more seeding points in a loss than a win. For example, a 4-2 win would give a team 13 points whereas a 10-9 loss would give each team in the alliance 19 points.

Thursday, April 15 ICE Team 3038 finished 3-0 and in 23rd place. On Friday, they finished with a 1-4 record but earned 45 seeding points in the last match of the day and their only win to rally and end the day in 32nd place. Saturday morning, ICE had a 1-1 record and ended the qualification rounds in a tie for 36th place with a team from Israel.

"Unfortunately for our team, the random draws did not give us the opportunity to play with the top teams in the Newton Division so when it came time for the draft, we were still relatively unknown to the teams who were drafting," explained mentor Becky Leuer. ICE ended the championships with a 5-5 record.

Seven Minnesota teams competed in the championships with only two teams ending the qualification rounds with a higher finish than North Branch-Chisago Lakes. Prior Lake finished 16th in the Curie Division and St. Anthony 30th in the Archimedes Division. Other competing Minnesota teams and their rankings were Edina (43rd), Apple Valley (51st), Southwest Christian in Chaska (65th), Patrick Henry (69th).

Scott Frischmon, mentor and Chisago Lakes High School instructor, commented that "The excitement this program creates makes it easy to teach. Robotics gives kids a real life experience in the use of technology. Our team can be very proud of how they did especially since the alliance that won the entire tournament came out of our division."

Student coach and strategist for the drive team, Luke Stein (CL) had this to say about the Atlanta experience. "It was an honor to meet and play with the top teams from not only the US but from around the world. The connections that we made will open new doors and new opportunities in the fields of engineering and technology. We, Team 3038, especially want to thank our corporate sponsors St. Jude Medical Foundation, Parson Electric, Pentair, and PTC to name a few. Thanks also to the other people who graciously gave us donations and to our mentors."

Mentors for the team are Frismon, Ken Cummings, Matt Plante, Jon Gamble, Anne Lawrence, Peter Hyslop, Barb Cummings, and Leuer.

"Watching students from Chisago Lakes and North Branch work together to create a successful program in only its second year is quite a tribute to our students and mentors" said mentor Becky Leuer.

The team would also like to thank the seniors for their contributions to the success of ICE Robotics Team 3038. They are; Brian Erickson (CL)- Pro E Design Team, Tyana Coleman (NB)-Web Design Team, Kevin Stein (NB)-Mascot and Scouting Team, Luke Stein(CL)-Drive Team.
---
September
SUN
MON
TUE
WED
THU
FRI
SAT
Today's Events
No calendar events have been scheduled for today.
September
SUN
MON
TUE
WED
THU
FRI
SAT
Today's Events
No calendar events have been scheduled for today.