August 5, 2010 at 8:36 a.m.
Lindstrom council gives the go ahead for sewer extension towards North Lindstrom lake, Linden Street project shelved for now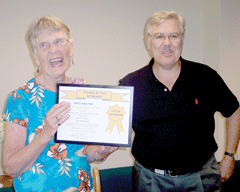 ---
There were more people in the audience at the Lindstrom City Council meeting July 27 who live in Chisago Lake Township, than who reside in Lindstrom.

Township residents affected by a project extending city sewer out along North Lindstrom Lake were seeking assurances from the Lindstrom City Council during a public hearing last week. Property owner Kevin Kirvida said he understands there's no city motive at this time to bring in properties that might prefer to stay in the township, but he expressed his concern that hostile annexation might be pursued later to help pay for the project.

Bonnie Patrick asked if the price of hooking into the municipal sewer system was forever firm, or if property owners miss-out on an affordable sewer service package by not annexing in now. (The answer is basically yes.)

Jack Handlos wondered about the deadline to participate in this project, explaining he has a parcel needing new sewer, in the township part of the work zone, for sale.

Mayor Keith Carlson said naturally the city would welcome parcels to spread assessments out over more than three parcels off Minnesota Avenue, in Lindstrom at this time.

This city council has "no hidden agenda" on pursuing this, he continued, but this council can't speak for future councils, and he could not guarantee there'd never be hostile annexation.

The mayor did say this council feels deteriorating lake water quality warrants addressing this now, plus three landowners have requested municipal sewer.

County Road 14 is also being re-done soon, with the highway intersection reconstruction, so now is the best time to accomplish this. The city's engineer stressed that if Lindstrom's going to be tearing up this area it should do it before the county rebuilds its section of #14.

Council accepted the plans and specifications and the assessment roll.

The bids were opened before the council held this hearing July 27 and the bid was awarded to Ryan out of Elko, MN for the approximately $231,000 project.

Lindstrom is picking up $207,000 of this work. Assessments will be $8,000 plus the city's $4,880 sewer hookup fee and any costs each landowner needs to cover to put a service line into their home from the street right-of-way line.

The project will be constructed as soon as possible, with the end of October set as the completion date.

If Ryan doesn't comply with bid bonding requirements, the city engineer advised council to hold onto the second lowest bid from Geislinger and Sons, and this was approved.

Council heard from MnDOT design team member Brad Skow about changes in the trail portion of the upcoming Highway 8 one-way pairs project. The trail as it comes out of Chisago City, on the Lake Lane diamond path, will now cross at the light at #14 head along the south side of the highway and cross the new channel bridge on its south side. (Earlier designs had it switchbacking under the bridge near the waterline.)

The walk-bike trail also will cross back to the north at a new light going in at Akerson Street (by the cemetery) and continue on the north side of the highway past the middle school. (The proposal for a tunnel under #8 at the cemetery has been scrapped.)

Council okayed the design changes.

Liaison to the design committee, Council member Jim Singer, reported the project is fully funded. Bid letting is still scheduled for summer 2011. Skow said if right-of-way acquisition goes well groundbreaking could be sometime that summer.

Council heard the to-be-displaced NABPCO Auto Parts building is probably being moved to the vacant lot between Arby's and Lindstrom Foods.

A project to bring city water and improve the small roadway (Lake Lane East) behind Lindstrom Foods is being looked at. Council okayed engineers to put together a cost and report back.

City Administrator John Olinger commented that when the intersection at #14 and Hwy. 8 is under construction this backroad will probably become the only access to Arby's etc. and it's pro-active to improve it now.

A preliminary plat of four lots on South Center Lake, off Glader was unanimously okayed. This had been part of Seasons on the Lake, a housing development that was shelved and had acreage on the south side of Glader as well. The lots were re-zoned from ag to residential in the motion. Attorney Vince Stevens, representing the applicant, reminded council the only issue involves the plat. Auxiliary legal issues pending on a property line dispute are for the court to decide, he advised.

The Glader Blvd. and Lakelawn municipal sewer extensions are wrapping up. John Herdegen, city engineer, said restoration of the work zone ie: hydro-seeding, will happen shortly and residents should be patient because the contractor has been awaiting sewerline pressure test results before putting in seed and sod.

The city anticipates permits will start to be applied for in short order by property owners hooking-up to the new service. Individual pump stations must have building permits, residents were reminded.

A catch basin that's malfunctioning (at Neal and Newlander) will be looked at by engineering for a report and quotes on costs to replace it.

Council member Joe Wishy has pressed this because it creates environmental problems for the lake. He said when ice builds up in the poorly-draining unit; large quantities of salt are applied which flush into the lake and Lindstrom needs to quit using so much salt.

Herdegen will bring quotes to fix the stormwater structure for the council to review August 19.

In a meeting rife with public improvements and infrastructure news-- one city project saw no support.

A request from the Parks Board to hire designers for about $10,000 for the Linden Street/Lindstrom Lake "overlook" and related stormwater system improvements was defeated unanimously.

Motion maker Joe Wishy told the council "...parks commissioners wanted me to present it and I presented it." The consensus was this is too expensive, and there are two bump-outs being designed into the nearby new channel bridge.


---
June
SUN
MON
TUE
WED
THU
FRI
SAT
Today's Events
No calendar events have been scheduled for today.
June
SUN
MON
TUE
WED
THU
FRI
SAT
Today's Events
No calendar events have been scheduled for today.