December 2, 2010 at 9:32 a.m.
Senior trio headlines North Branch pigskin awards
Bossard, Smith and Levasseur each picked up All-Conference and MVP honors for the red and white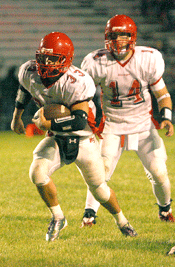 ---
The North Branch football squad held their banquet earlier this week and announced the team awards, as well as conference awards.

Among the All-Conference performers for the Vikings were seniors Scott Bossard, Zack Smith and Luke Levasseur, as well as junior Jared Houle.

The All-Conference Honorable Mention awards were doled out to senior linemen Austin Niederkorn and Zack DeAdder, senior receiver Forrest Huset and junior defensive back Brett Klun.

On the year, Bossard was 67-of-133 throwing for 967 yards and eight touchdowns. On the ground, he rushed for 731 yards and 11 touchdowns on 154 carries.

Smith just narrowly missed cracking the 1,000 yard barrier, finishing the year with 951 yards and eight touchdowns on 190 carries. Smith was also second on the team with 56 tackles, and he led the defense with two interceptions.

Levasseur did his work all over the field, also. He rushed for 216 yards and four touchdowns on 47 carries. He was also second on the team in receptions, with 15 for 212 yards and a touchdown. Levasseur also added 53 tackles and one pick on defense.

Houle led the defense with 68 tackles, one forced fumble and one interception. He also led the team with 17 receptions for 169 yards.

As for the Honorable Mentions, Niederkorn was one of only two players who started both ways all year, anchoring the defensive and offensive lines. DeAdder was out there much of the time with him.

Huset only had 11 receptions on the year for 183 yards, but five of those catches were touchdowns for the six-foot, five-inch senior receiver.

Klun had eight rushes and four receptions on offense, and he added 38 tackles and one fumble recovery for a touchdown on defense.

At the banquet, all six of the captains were also recognized for their hard work, Bossard, Smith, Huset, Niederkorn, David Leason and Kaj Johnson all received special recognition.

The team awards, which were voted by the kids themselves, were also revealed. The team MVP was Bossard, the Offensive MVPs were Bossard and Smith, the Defensive MVP was Levasseur, Niederkorn got the Most Valuable Lineman, Mike Weeks won Most Improved, Jared Houle earned the Rookie of the Year Award and Rob Hatch and Andy Freel won the Viking Award.

On the year, the Vikings were 3-6, with four of their losses coming by a combined 24 points. They also had another loss, against Hill Murray, in which they led 20-6 at one point.

It was a trying season, but the three wins are as many victories as the team had in their previous three years combined for the high school.


---
June
SUN
MON
TUE
WED
THU
FRI
SAT
Today's Events
No calendar events have been scheduled for today.
June
SUN
MON
TUE
WED
THU
FRI
SAT
Today's Events
No calendar events have been scheduled for today.