December 23, 2010 at 9:25 a.m.
Former Legislator says project ok'd easily; location was not state's first choice
So far, so good for Rush City Prison after first ten years of operations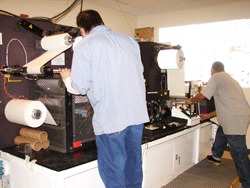 ---
Governor Jesse Ventura and about 300 close personal friends dedicated the correctional facility at Rush City in 1999 in a rather festive event filled with dance troupes, music and a host of dignitaries. Staff were hired and trained. The correctional facility accepted its first inmate in February 2000, over three years after the ground was broken for the project.

As 2010 comes to a close we offer a look at the county's largest single physical structure (416,000 square feet under roof) and its first 10 years. The project was the first facility built for adult male felons in Minnesota in nearly 20 years. City, county and state leaders chased this project for its economic impact and the prestige of having Chisago county home to an important state facility.

Loren Jennings, rural Harris, actively worked in support of this. He served in the Minnesota Legislature, representing Chisago County in the House.

As the prison was planned and then funded by the legislature, Jennings said in a recent interview that it wasn't a hard sell. "We knew we would need X-amount of beds and we did it," he recalled.

There was an opposition group, though, not 100 percent of local citizens were behind this. He commented, that, "People who had lived near the site first well, they should have concerns." Ten years ago Rush City was a small town.

It's still a small town; but over the course of a decade newcomers and changes have come, some due to the prison.

As for fears that crime rates would increase due to the proximity of the prison, those never materialized. Jennings says the sky is brighter at night where the secure yard is illuminated, but other than that most people "don't even know the prison's there."

At the Capitol 10 years ago in St. Paul, Jennings recalls the mood then made it "pretty easy politically" to spend money on public safety. Locking up offenders was popular, he said.

Jennings remembers that Rush City only barely won the $90 million project. Soils and sitework difficulties arose at the state's preferred site at Braham. Jennings adds, Rush City "...was in the right place at the right time and more than willing to step up," as second choice.

In doing his research, then-State Representative Jennings noted the communities he talked to or visited, the ones that contained correctional facilities, were positive about the experience. "I never heard anybody say if given the chance, they wouldn't do it again."

Jennings is gratified to hear there are 346 employed at the prison, it was anticipated it would employ 319. (Chart has more details.)

If you are interested in employment openings check periodically at www.careers.state.mn.us.

The MNCF-Rush City is a collection of housing units appearing to orbit the main building. Administration, education, industry, religious observances, food service and other operations are provided in the central structure. The prison is at-capacity (993 inmates the day we visited.) There are no plans to expand, said Rush City Warden Bruce Reiser.

Reiser was promoted in March 2009 from the Faribault, MN correctional facility. A Pine City native, he appreciates being able to work in east central Minnesota.

The prison design allows for pre-fabricated concrete housing "pods" to be literally dropped onto the edge of the core and attached to existing mechanicals. Inmates live in double-bunked rooms.

The prison site covers 385 acres and 82 acres are within the perimeter fence. The facility sits well off the beaten track. "We try to be good neighbors," Warden Reiser explains of the facility's low profile in its first 10 years.

The facility's original warden Bert Mohs organized a community committee that met regularly to open lines of communication with residents and explain prison operations. There were so few issues the committee meeting frequency dwindled over the years, to where now maybe they meet once a year.

Warden Reiser is open to seeing a community based group "reactivated" to enhance volunteerism and get more people involved in prison related programs. It's on his to-do list.

Sandy O'Hara, Associate Warden, said volunteers are "very important" to the correctional facility mission. Over 100 volunteers alone are involved in the religious services and spiritual center, which accommodates everything from classic religious needs of Lutheran offenders to a sweat lodge for incarcerated Native peoples.

O'Hara mentioned that the prison has a music program and she encouraged donations of instruments like keyboards and guitars. Offenders make money working at facility industries, and are allowed to purchase acoustic guitars with earnings, for example.

Rehabilitation opportunities

The industrial section of the prison is another area where expectations 10 years ago are still being met.

Annually 1.2 million license plates are manufactured at Rush City. Offenders who staff the plate manufacturing area learn Computer Aided graphic design and other printing skills.

MinnCor, an agency of the state, markets the capabilities of the laborforce and seals a variety of contracts calling for handwork.

Plastech, a local company, sends products to the prison for finish. Affixing plastic rake fans onto wood handles was one project the day we stopped by. Another contract calls for attaching pliable metal heat shields to seat covers installed atop engine compartments of ATVs.

Offenders who successfully participate in the workplace get incentives and rewards, getting certified in forklift operation, for example.

Warden Reiser said the philosophy is to try to prepare offenders for a productive life after release. About 38 percent of his population are repeat or release condition violators. (Ten percent are in for long term and about half are transitioning into and out of other sites.) Rush City is level 4 in a six-level system, with six being the most egregious offenders.

"We promote constructive use of their time as much as we can, working within the constraints we have" the warden said.

Inmates use their wages to contribute to the Restorative Justice Program that supports worthy causes or the income goes to restitution.

Employees by home town

Fredric 1

Grantsburg 12

Hudson 1

Milltown 1

Osceola 2

Siren 1

Somerset 1

Spooner 1

St. Croix Falls 2

Superior 1

Webster 4

Askov 3

Bovey 1

Braham 9

Brainerd 1

Brook Park 3

Brooklyn Center 2

Bruno 3

Cambridge 21

Cedar 1

Center City 3

Champlin 1

Chisago City 4

Circle Pines 2

Coon Rapids 2

Dalbo 1

Duluth 2

Faribault 1

Finlayson 2

Forest Lake 4

Garrison 1

Golden Valley 1

Grandy 3

Grasston 4

Ham Lake 3

Harris 14

Henriette 1

Hinckley 9

Hugo 1

Isanti 13

Lexington 1

Lindstrom 4

Lino Lakes 1

Little Canada 1

Maple Plain 1

Milaca 4

Minneapolis 3

Moose Lake 3

Mora 14

New Brighton 2

North Branch 22

Ogilvie 3

Pierz 2

Pine City 49

Princeton 2

Proctor 1

Ramsey 1

Rock Creek 3

Rush City 41

Sandstone 7

Sauk Centre 1

Shafer 1

St. Cloud 2

St. Francis 2

St. Paul 2

Stacy 6

Stanchfield 6

Sturgeon Lake 6

Taylors Falls 1

White Bear Lake 8

Willow River 2

Wyoming 1

Total: 346 - 199 are

Correctional Officers
---
June
SUN
MON
TUE
WED
THU
FRI
SAT
Today's Events
No calendar events have been scheduled for today.
June
SUN
MON
TUE
WED
THU
FRI
SAT
Today's Events
No calendar events have been scheduled for today.