February 25, 2010 at 1:45 p.m.
Vikings avoid season sweep with boys stepping up for big win
Wildcat girls earn two-game sweep over Vikings with a 67-45 victory at CL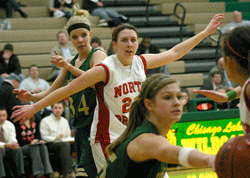 ---
Chisago Lakes 67, North Branch 45

The Chisago Lakes girls basketball team finished their season sweep of county rival North Branch with a bang last week.

"Chisago Lakes has a very nice team this year, and they certainly give us some match up problems with their size," North Branch Head Coach Dan Schindler said. "But, it's always fun to play them and our girls were ready to go."

After jumping out to a quick 14-4 lead, the 'Cats looked like they'd be in cruise control over the Vikings for the remainder of the game, but Schindler's squad wouldn't go quietly, especially not against Chisago Lakes.

Despite spotting the 'Cats 10 points early, North Branch battled back to be down by only two at 16-14. However, Chisago Lakes turned their boosters back on in the latter half of the first frame. They went on a 16-4 run to end the half and leave North Branch in a deep hole at 32-18 at the break.

"The main problem we had is what has bothered us all year, and that is our lack of good shooting for minutes at a time," Schindler said. "I thought we had great intensity to start the game, but Chisago simply shot the basketball better than us. We did battle back, but then we went on a scoring drought again before half. We made some mistakes during that stretch and against a good team like Chisago Lakes you can't do that."

North Branch really was able to limit CL phenom Whitney Tinjum, but the rest of her teammates really picked up the slack in the first half and throughout the whole game. "The Vikings did what I would do if I had to play our team," CL Head Coach Craig Walker said. "They tried to frustrate and limit Whitney's looks and touched and see if they could make the rest of our team carry the load offensively."

Luckily for Tinjum and the Wildcats, the rest of the squad was able to step up and make those shots. Senior Kelsey Ristow netted 16 points and guard Hannah Trandahl added 10 points.

North Branch tried to make a run in the second half, but it just wasn't enough as Chisago Lakes made their free throws down the stretch, going 11-for-12 in the last nine minutes.

"I thought Miranda Charley again did a nice job on Whitney. We held her to four first half points and she ended up the game with 10," Schindler said of his defensive ace. "The big difference for the game was that Chisago Lakes shot about 50 percent while we shot about 30 percent. We took the same number of shots and had more free throws, but yet were beat on the scoreboard. Give Chisago Lakes credit, they did what they had to and deserved to win."

As well as Ristow and Trandahl's big games, senior guard Summer Young did everything besides score the rock. She notched her second straight 10-assists game with 12 assists and 10 rebounds.

For the Vikings, senior Jessica Audette had 12 points while Rikki Beaver, Rebecca Collins, Kendra Norman and Sarah Lekson all added sevent points in the losing effort.

"We continue to work on our post scoring and Kasie Shoberg, Zoe Hansen and Brittney Land added 19 points as a group," Walker explained. "Brittney's been battling injuries lately, so her six points are big for us as we travel to Spring Lake Park on Tuesday. If we can get one or two of them going for sections, we will be tough to beat."


---
September
SUN
MON
TUE
WED
THU
FRI
SAT
Today's Events
No calendar events have been scheduled for today.
September
SUN
MON
TUE
WED
THU
FRI
SAT
Today's Events
No calendar events have been scheduled for today.