January 21, 2010 at 9:39 a.m.
'Cats sweep county battle on night of miracles and milestones
Another huge effort from Whitney Tinjum, who scored her 1,000th point, leads to a Wildcat win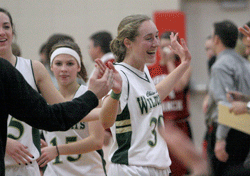 ---
Chisago Lakes 44, North Branch 34

In the second part of the Chisago Lakes/North Branch doubleheader, the Wildcat girls took care of business, much like the Wildcat boys had done an hour previous.

After taking time out of their warm-ups to present the nearly $9,200 to the American Cancer Society as part of the North Branch and Chisago Lakes Coaches vs Cancer effort, the girls got down to business quickly.

After two quick baskets by CL's Whitney Tinjum, both teams settled in a rhythm for a bit.

However, their was a brief moment of celebration for the Wildcats as Tinjum, who was sitting on 999 career points, stepped to the free throw line for a chance at 1,000. The sophomore drained the first one as she got a standing ovation from the girls bench and the Chisago Lakes crowd for her achievement at such a young age.

She made the second free throw, and then a fast-break lay up before CL Head Coach Craig Walker could call a timeout to recognize Tinjum for her milestone.

The momentum from that built the 'Cats confidence up as they started to gain a slight lead.

It didn't help the Vikings that two of their top players, Jessica Audette and Rebecca Collins, were on the bench with foul trouble. "It's hard for us to get our press going because those two girls are such an important part of it," North Branch Head Coach Dan Schindler said. "So we found ourselfs just trying to keep it close and get in the locker room and regroup."

The Vikings were able to do just that, trailing by only five points at halftime at 24-19. "I thought Josie Forstrom and Cassedy Coleman came in and gave us some nice minutes in that half," Schindler said.

Although the 'Cats enjoyed the lead at halftime, Walker wasn't resting on his laurels. "Coach Schindler always has his girls ready to play, especially defensively," he said. "In most games where they are down at the half, they will come back because of their defense and the fact that they draw a lot of fouls and shoot free throws very well."

North Branch almost made that statement come true when they played well and were hitting shots for the first eight minutes of the second half. The Vikings took a one-point lead after a three-pointer by Kendra Norman, but then the Vikings went cold from the field.

"What has hurt us in our losses all year is poor shooting and we again had that trouble against Chisago Lakes," Schindler explained. "Part of it is some poor shot selection, some was Chisago's defense and some other was us just missing shots."

In the second half, Norman was the only Viking who made a shot from the field.

"Coming in, we thought that our size advantage would help us defensively and allow us to control the boards.," Walker said. "Defensively, we played pretty well, limiting their easy shots on the inside, but they did get around us and to get some big offensive rebounds and draw fouls on our post players."

With Tinjum leading the way on offense for the Wildcats and having her way around the basket, things didn't get any easier for the Vikings, either.

The Wildcats ended up winning, besting the Vikings 44-34. "At the end of the game 34 points isn't going to win many," Schindler said. "We have to use this game as a learning experience and get better. And we have to shoot the basketball better. For the game we shot seven more shots than Chisago, but made five less baskets.

Miranda Charley continues to play great defense and led the Vikings with 10 rebounds.


---
June
SUN
MON
TUE
WED
THU
FRI
SAT
Today's Events
No calendar events have been scheduled for today.
June
SUN
MON
TUE
WED
THU
FRI
SAT
Today's Events
No calendar events have been scheduled for today.