July 8, 2010 at 8:37 a.m.
Bringing the blues to North Branch
Recording artist and studio owner to teach community education class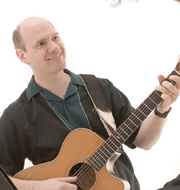 ---
After eight years of assembling an interesting and engaging summer outdoor concert series for the community of North Branch, one of the concert organizers was seeking some new inspiration for the ninth season.

Concert series organizer Jeanne Leland, the North Branch Community Education Director, recalled that the visual arts component of last summer's Central Park Concerts had been popular. It was well received, she said, because it offered the community a chance to learn about an art form and then display it at the concert.

Local dancers had approached Leland about staging pieces around the Central Park concerts, and Leland guessed there must be people who'd also enjoy playing instruments or singing with one of the professional musical groups. She thought of offering a lesson, first through Community Ed, and then participants could get comfortable with the experience and be part of the entertainment at the summer concerts.

With the theme "Sights and Sounds" in mind for this summer's series, the musician teacher Leland had in mind would have to be Randy Gildersleeve, and his group "Savanna Blue."

Gildersleeve is used to working with people. Aside from being a well respected musician-- he also owns Gildersound Studio in Forest Lake, and he's been teaching at Music Connection for years.

In a couple short weeks, those who register through Community Ed in North Branch will get a first-ever chance to jam after a class with Gildersleeve, as part of an open air concert performing with "Savanna Blue."

The two-hour class is just $10.

It all happens Thursday, July 22. Instruction in playing the blues will start at 2 p.m. at North Branch High School and the lesson wraps up at 4 p.m.

Gildersleeve said he hopes everybody who takes the lesson will return to play a bit with the band later that night.

Gildersleeve said Leland mostly just asked him if he and the group would be willing to open up a portion of their time on stage that night and improvise with those who felt brave enough to do so. Gildersleeve said it would be fun.

The lesson portion, which is offered by North Branch Community Education, is open to a wide variety of ages and musical interests. Gildersleeve hopes to see guitars, sure-- but also vocalists, kazoos or brass players participate. He can handle a class of 12 to 15, he explained.

You should have an interest in playing the blues, and not fear "composing on the fly," he said.

"Blues playing ideas transcend a specific instrument," he continued. "Open your mind. If you have proficiency on any instrument; it doesn't have to be guitar, you don't have to be highly skilled, I think you'll enjoy this."

Gildersleeve just finished work at the studio on Peter Mayer's CD Heaven Below, which was released in April. A radio commercial for Ritzy Clean airing on metro stations includes a theme song performed by Gildersleeve and Andy LaCasse. The studio also recorded the White Bear Universalist Choir on-site for the song "Church of the Earth."

Gildersleeve came to the Twin Cities from his native Wisconsin about 1977, to pursue a music career and attend college. He started buying recording equipment and by 1995 his place in Columbia Heights was too small. He relocated to Forest Lake, where he built his family's home and studio. It was established as Gildersound in 1996.

Within a year or so the studio was totally equipped with digital editing and CD burning, he currently is capable of laying up to 96 tracks utilizing a Pro Tools HD accel 3 system. See gildersound.com for recording fees and details.
---
May
SUN
MON
TUE
WED
THU
FRI
SAT
Today's Events
No calendar events have been scheduled for today.
May
SUN
MON
TUE
WED
THU
FRI
SAT
Today's Events
No calendar events have been scheduled for today.