July 29, 2010 at 8:23 a.m.
Short handed North Branch City Council meeting agenda includes new electricity contract and ceremony to swear in chief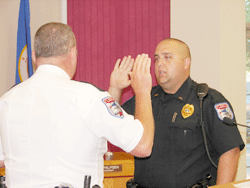 ---
BY DENISE MARTIN

Monday night, the North Branch City Council witnessed exiting Chief of Police Steve Forner as he swore-in his successor, interim Chief of Police Dan Meyer.

The administering of the oath was also attended by members of the chief's family and local Lakes Area EMS team members were also on hand. (See the Forner retires story.)

There's a retirement get together to wish Forner well, at the Legion Post, Friday, July 30, from 2 p.m. to 6 p.m. All friends, co-workers and others are welcome to drop by.

The council then handled a few action items with Larry Erickson acting as mayor, with Amy Oehlers and Council member Furman, absent.

~ North Branch Water & Light Manager Russ Good presented some information on the organization's new contract with the southern Minnesota power co-operative SMMPA that provides North Branch with electricity.

Council was asked to voluntarily cancel the existing contract with the co-op and approve a new contract. Good said the new generation agreement will provide enough backup power (10 megawatts) to serve the whole North Branch customer base. Good added, "Tonight (if a loss of power occurred)we could serve two-thirds of North Branch," and under the new contract the reliability is greatly improved. "There are no losers in this," Good concluded.

North Branch Power & Light is switching out its equipment, in a project which will be paid for over time, in regular billing of customers. The city will be the issuer of the debt that funds this project. City Attorney Tom Miller said the contract looks fine, but he wanted the council to be reminded of the later bonding need.

The council gave preliminary approval to do the contract actions, based on the cooperative also canceling the existing commitment.

Following up on a couple complaints, the council approved a request to make one side of Oak Ridge Court "no parking." The roadway is narrow and there are concerns that cars on both sides of the road make it impossible for an ambulance, fire truck or even large commercial vehicle to get to the cul-de-sac. The south side of the roadway will be posted.

~ The vote was 2-1 on hiring a professional negotiator for the upcoming employee contracts. John Philipsen commented that he wanted to see other proposals, but he was reminded that the council received a few proposals just a year ago and staff was asking to use the same firm again. Philipsen said he'd like to review the RFP responses that are still on file from the first hiring. North Branch City Administrator Bridgitte Konrad said with elections and other duties, and no city clerk being hired to replace Ms. Gaustad who resigned a few months ago-- the city needs this outside service. Erickson and Council member Kathy Blomquist commented that the process went really well using this firm on the last contracts.
---
December
SUN
MON
TUE
WED
THU
FRI
SAT
Today's Events
No calendar events have been scheduled for today.
December
SUN
MON
TUE
WED
THU
FRI
SAT
Today's Events
No calendar events have been scheduled for today.