March 4, 2010 at 8:31 a.m.
'And they're off'…
Students' social service project is supporting local rescue of discarded race dogs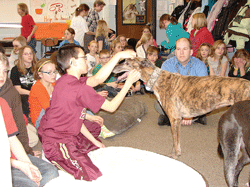 ---
A group of area fifth graders and a Lindstrom veterinary clinic are doing their best to prove that man can be dogs' best friend.

Jeremy Swensen's Scandia Elementary School students and Lakes Veterinary & Surgical Center are involved with a network of dedicated volunteers rescuing greyhound dogs that the dog racing industry has discarded.

The fifth graders in Mr. Swensen's class chose Minnesota Greyhound Rescue for their classroom community service project. Swensen said research has shown students get motivated and learn most effectively when a topic is of personal interest and there's a hands-on aspect to the lesson. After choosing MN Greyhound Rescue to benefit from their efforts, the students selected classmates for committees responsible to do tasks like "public information" or create informational material. Students produced a jingo, a brief video that's posted on the Scandia Elementary School website.

Their goal, they told this reporter, is to raise $900.

They also are collecting donations of soft collars (mesh strap kind) or leashes, and have set up donation boxes at the school. If you would like to mail a check send it to Scandia Elementary School, 14351 Scandia Trail North, Scandia, MN 55073. Checks should be payable to Minnesota Greyhound Rescue.

The fundraising effort is scheduled to run basically through March.

Last week the youngsters also got to spend 30 to 40 minutes with six greyhounds.

They asked questions of Minnesota Greyhound Rescue director Jen Komatsu, who transported the dogs to the school, along with Lindstrom veterinarian Dr. Meaghan Swensen-- who just happens to be married to their teacher.

The dogs couldn't have been any more mellow. They wandered through the cluster of students, seeking the attention and adoration of the kids. A couple plunked down on their fleece doggy beds and snoozed through the presentation.

Dr. Swensen explained greyhounds are appreciated for their passive, calm personalities. They are hunters, however, and will chase prey, even an electronic rabbit, which is what they were trained to do on the racetrack.

The visiting greyhounds ranged in age from 3 to 11. The Swensens also brought along their dog, Hootie. The teacher and the doctor have been greyhound fans since veterinary school days.

Dr. Swensen talked about the dogs' ability to run and their keen vision. She said they sometimes have medical needs when taken in by the rescue group and explained how two of the dogs in the class that day have had cancer. Fleas are common because the dogs live in close quarters at the track. The animals are neutered or spayed. All the dogs get basic veterinary care at the Lakes Veterinary & Surgery facility.

Komatsu told the curious students that she will get a call when a single dog or group of dogs are being let go by a greyhound racing track. She transports them in her compartmentalized "dog truck" to locations where providers "...make sure the dogs stay safe."

The east metro branch (Inver Grove Heights location) of the rescue organization currently has about 15 adoptable greyhounds, and Komatsu houses 11 at her own residence.

The rescue group invites anyone interested in greyhounds to contact a representative and the group will make a site visit to the would-be adoption home, and will work with you on transitioning the greyhound into your family.


---
June
SUN
MON
TUE
WED
THU
FRI
SAT
Today's Events
No calendar events have been scheduled for today.
June
SUN
MON
TUE
WED
THU
FRI
SAT
Today's Events
No calendar events have been scheduled for today.