May 20, 2010 at 9:40 a.m.
North Branch explodes for 25 in doubleheader vs Fridley
With every bad bounce seemingly going against them, the Viking softball team took some of their aggression out in 14-0 and 11-1 wins over Fridley last week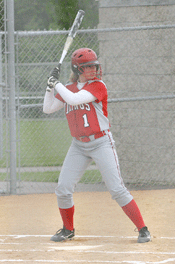 ---
North Branch 14, Fridley 0

The North Branch softball team got a little bit of a break in the schedule when 3-13 Fridley came to town for a doubleheader.

The Vikes opened the scoring in the bottom of the first inning when Tiffany Anderson led off with a walk and stole second base. After an Alley Carlson grounder was mis-handled, Anderson scored and Carlson found herself on second.

After a Tiger error on a Chelsea Tollberg hit, Kayla Merschdorf singled to center to score Carlson.

Pinch runner Kallie Grote scored the final run of the opening inning when she raced home on a groundout by Ashley King.

North Branch tacked on five more runs in the second inning, but it was only off of two hits -- Emily Trunk and Merschdorf. Kelci Lofboom, Carlson and Tollberg were all able to draw walks from the Fridley pitcher, and the big damage came on a two-out error in the outfield. King had hit a fly ball to centerfield and the outfielder fumbled it around and allowed the bases to clear and three runs to come in.

The final North Branch surge came in the fourth inning. Carlson reached on an error, Merschdorf reached on a fielders choice and King brought Carlson home with another fielders choice.

Senior Quiana Quam drove Merschdorf home with a single. Angel Buzay drew a two-out walk and Lofboom laced a single to load the bases with two outs.

Anderson, who is a senior, belted her first career grand slam over the left centerfield fence to stretch the lead to 14-0.

The Vikes hit the brakes for the rest of the game and cruised to the five-inning victory when the game was called because of the mercy rule.

Lofboom earned the shutout, going all five innings while giving up just four hits and striking out two Tigers.

North Branch may not have hit the leather off the ball, but they were very patient at the plate, drawing a handful of walks. They ended up scoring their 14 runs on only seven hits and one error.



North Branch 11, Fridley 1

After a brief break, North Branch retook the field against the overmatched Tigers again.

Much like the first game, the Vikings pounced early to make sure Fridley couldn't build any confidence against them.

Anderson again led off with a single and stole second base. She moved to third on a sacrifice bunt by Trunk. She came across home plate off of a single by Carlson.

After a Tollberg walk, Carlson scored on a single by Merschdorf. Buzay, who had been pinch-running for Tollberg, scored when Merschdorf got caught in a rundown between first and second base.

Fridley responded with their only run of the game in the second inning when the leadoff batter reached on an error, was sacrificed to second base and came home on a single.

However, the game kept unfolding just like the first one. North Branch added five runs in the second inning. They got singles from Grote, Anderson and Merschdorf, as well as a walk by Lofboom. They were helped by another costly Fridley error.

In the third, fifth and sixth innings, North Branch added one run each time to earn another mercy rule win.

In the third, Quam scored on an Anderson single after she had singled and was sacrificed to second.

In the fifth, it was three walks and an RBI single by Lofboom that brought in the lone run.

Finally, in the sixth, Tollberg reached on a Fridley error, advanced to third on a Merschdorf single and scored on a wild pitch.

Lofboom earned her second win on the day, going the first three innings. She gave up the lone run with two strikeouts. Trunk finished the game, going the last three innings and striking out four Tigers.

""We continued to swing the bats well and we made Fridley pay for some fielding mistakes," Head Coach Ron Trunk said after the 25-1 combined shellacking of Fridley. "Tiffy has really started hitting the ball well. It was also great to have Kelci back on the mound for us as well for us. Every time Fridley got a runner or two on base she really bared down to get the final outs."

Anderson is now eight-for-12 in the Vikings last three games with three home runs and Merschdorf has gone seven-for-11 in that same stretch.



Spring Lake Park 6, North Branch 1

After hitting the tar out of the ball in their doubleheader, the Vikings knew hits were going to be a lot harder to come by against Sara DuPaul, the top pitcher in the state of Minnesota and future Golden Gopher.

Things got bleak quick for the VIkings when Trunk walked four Panthers and gave up a hit to spot Spring Lake Park a 2-0 lead.

The Panthers tacked on two more runs in both the top of the fourth inning and top of the sixth. In both instances, walks and errors hurt the Vikes. In the fourth, SLP got their two runs on two hits, a walk and a throwing error, and in the sixth, the runs came off of a walk, a double and a single.

North Branch broke up the shutout in the bottom of the sixth inning when they got three straight two-out hits off of DuPaul. Trunk, Carlson and Merschdorf strung together the hits with Merschdorf collecting the RBI.

Quiana Quam also got a hit off of DuPaul.

"It was a game of small victories for us," Coach Trunk said. "Last year, DuPaul threw a perfect game against us, but we were able to get some hits and collect an earned run off of her. We were hoping to keep the game closer, but too many walks did us in."

Trunk took the loss for the Vikings, going all seven innings and giving up six runs on 10 hits and seven walks. Four of the free passes she issued came around to score for Spring Lake Park.

The Fridley wins were the second and third ones on the year for a 3-14 North Branch team that hasn't been able to buy a break this year. The girls are 0-8 in games decided by three runs or less. The bounces just haven't gone their way.

With only two regular season games left, one tonight at Irondale and one tomorrow hosting Andover, North Branch hopes to start catching their breaks and bounces just before sections.


---
June
SUN
MON
TUE
WED
THU
FRI
SAT
Today's Events
No calendar events have been scheduled for today.
June
SUN
MON
TUE
WED
THU
FRI
SAT
Today's Events
No calendar events have been scheduled for today.