November 11, 2010 at 8:34 a.m.
North Branch takes over Northfield Vikings' Charpentier, Zimmerman and Norman perform well at cross country state tournament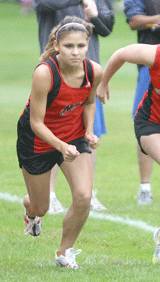 ---
The North Branch cross country team was well-represented at the state tournament at St. Olaf College in Northfield last weekend.

Seniors Colin Charpentier and Kendra Norman, alongside junior Megan Zimmerman, all made their debuts at the tournament for the best runners in the state.

Things started out perfect for the runners as it was perfect weather for a cross country race, and that, in turn, brought the spectators out in droves to cheer on the competitors.

Charpentier was the first Viking up, and despite a minor knee injury he suffered after all of the training and miles he had packed on this year, the senior ran a 17:36, which was good enough for 129th out of 154 runners. "Colin toughed it out and ran a great race with the top runners in the state," Head Coach Anna Pouliot beamed afterwards.

Girls

For Kendra Norman, the last race of her career produced one of her best results.

She blazed through the course in a time of 15:36, which was good enough to crack the top 70 in 69th place out of 158 runners. "Kendra ran a fast and focused run for her last high school cross country race," Pouliot said after the run was over.

Zimmerman, who had been one of the Vikings' most consistent runners this year, had a tough time in the opening stages of the race and stumbled to a 15:59 finish, but that was still good enough for 102nd place. "Megan was in awe of being a part of the top 158 runners in the state, and she had a rough start," Pouliot noted. "But, she ran with a smile on her face the entire time."

At the end of the day, the three runners were the most North Branch had qualified individually for state, and the most runners since 2006, when the whole boys team qualified for the state meet.

In the end, Pouliot had a successful first year, and is already looking forward to plenty more with her runners. "Couch [Nick] Brouwer and I are so proud of the three runners at state," she said. "And to everyone, once again, it was an awesome year. I already can't wait for next year! Coach Brouwer and I are proud of the entire team's successes this year and we are proud to be your coaches as well! You all are truly amazing people and athletes! Thanks for sharing it all with us!"
---
September
SUN
MON
TUE
WED
THU
FRI
SAT
Today's Events
No calendar events have been scheduled for today.
September
SUN
MON
TUE
WED
THU
FRI
SAT
Today's Events
No calendar events have been scheduled for today.