November 11, 2010 at 8:30 a.m.
North Branch's dream section run ends short against Greyhounds
After upset of third-seeded Elk River, Vikings push second-seeded Duluth East to the brink in five-set loss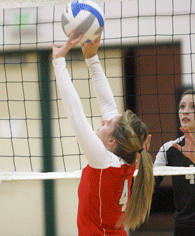 ---
After winning their play-in game against Princeton and knocking off the third-seeded Elk River Elks, the North Branch volleyball team had their sights set on a lofty goal: the state tournament.

With only Duluth East and top-seeded Andover left in front of them, the Vikings knew their hot streak, which consisted of seven straight wins, and 12 wins in their last 14 matches, could be enough to carry them.

Duluth East came out firing in the first round on their home court, and North Branch came out a little tight in the big game. "We found ourselves down early, but we began a rally at the end of game on, and took that momentum into game two," Head Coach Kari Francis said.

Although North Branch dropped the first set 25-20, they rebounded for two big, relatively effortless wins in the second and third sets. They dropped the Greyhounds 25-17 in the second set, and proceeded to beat them down 25-19 in the third set. "We played great defense in game two and three, and their hitters started to get frustrated," Francis said of the Vikes execution of their strategy.

In the fourth game, Duluth East rallied to regain the momentum and attempt to knot the match at two sets each.

North Branch played tough, playing steady volleyball from the first point to the last, but it just wasn't enough as Duluth East went on to win the fourth set 25-20.

In the deciding set, North Branch allowed the Greyhounds to get out to an early lead, and they never relinquished control in the final set, winning 15-9 and eliminating the Vikings from the section and ending their season.

"We just fell a little short in some key situations," Francis said after the match.

The Vikings were led by outside hitters Jessica Lemmerman and Rachel Barg. Both of them had eight kills from the front line. Tayler Fertig also added seven kills from the middle hitter position, and Jessica Merchant chipped in five.

Francis noted that it was the last game in the career of three-year starting libero Morgan Leadens. "She was a great leader for our team, and she will leave some big shoes to fill," Francis said of her departing senior.

After what started out as another struggling season, marred by a month-long stretch in which the Vikes lost eight of 12, North Branch recovered to make a deep run and really challenge some of the top teams in Section 7AAA. "We came a long way this season in terms of our volleyball play as a team," Francis noted. "I was very happy with our performance by the end of the year."


---
June
SUN
MON
TUE
WED
THU
FRI
SAT
Today's Events
No calendar events have been scheduled for today.
June
SUN
MON
TUE
WED
THU
FRI
SAT
Today's Events
No calendar events have been scheduled for today.